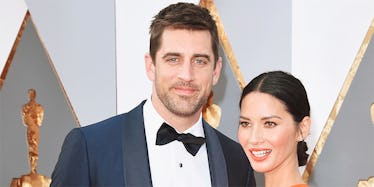 Aaron Rodgers Was The Cutest, Most Awkward Red Carpet Date
Getty Images
For a man who shows nothing but poise and control on the football field, Aaron Rodgers is clearly having a fun time at the Academy Awards.
The one-time Super Bowl MVP showed up at the Oscars red carpet with the always lovely actress Olivia Munn.
According to the actress, Rodgers was there just being the general nice, supportive guy everyone thinks he is, but it's obvious the man is just not used to this kind of attention.
Awkwardly following doesn't come close to describing what's going on here.
You can hear Munn just thinking to herself, "No, it's OK, you come with me over here." Like, that's an extremely uncomfortable smile if I've ever seen one.
He's clearly trying so hard to just blend in.
Thankfully, it's not all awkwardness from the Green Bay Packers quarterback on the red carpet. Not even Rodgers could resist the urge to act out when the camera accidentally landed on him, as it did while Common was being interviewed.
Rodgers may not be the smoothest man on the red carpet, but considering it's not exactly his scene, he's clearly making the best of it. You do you, Aaron; you do you.