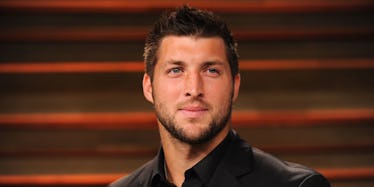 8 Athletes Who Are Super Open About Being Virgins Before Marriage
REX/Shutterstock
Here is a list of the best athletes who kept their balls on the court AND NOWHERE ELSE.
Russell Wilson and Ciara got married a few weeks ago, and for most athletes, this would be miserable news.
Don't get me wrong. Ciara is all kinds of fine. I'd give both of my kneecaps to call that walking five-alarm smokeshow my wife. It's like marrying the concept of fire.
Mazel tov to Russell, who is currently killing it in ways most of us could never imagine.
But I'm not a pro athlete. My chest doesn't look like it was carved out of a boulder, and my bank account doesn't include four commas. For pro athletes, the world is essentially a hump-musement park to which they have season passes.
Marriage ruins that.
Marriage marks the end of what was years of throwing their Ds around town like it was a D-throwing competition they were trying to place high enough in to make it to D-throwing regional qualifiers.
Sure, sure, sure, there is a component of love involved in this, but even the owner of Disney wants to watch a Warner Bros movie every once in a while IFYAKNOWWHATIMEAN.
For Russell Wilson, his social career trajectory was different. You see, Russell is part of a small fraternity of men who go above and beyond when it comes to discipline and work ethic.
No, I'm not talking about the Heisman fraternity. I'm talking about athlete virgins. (Technically, he was a born again virgin, but he was still passing up all that grade-A tushy during his years of being a football stud -- which may be worse.)
Let's take a minute to salute those athletes who decided to keep it in their pants, not capitalizing on any sweet, sweeeeeeet genital-to-genital contact during their time in the limelight.
1. Tim Tebow
We obviously have to start the list with Tim. Essentially the face of sporting abstinence, the current motivational speaker (?) made a name for himself as being someone who could will himself into only one kind of end zone.
2. Lolo Jones
There were actually rumors about the former Olympic runner and Tim Tebow possibly going out at some point, but that was proven largely false. Jones does, however, famously keep her nether regions 100, vowing to save it all for the future Mr. Lolo Jones.
She is maybe my favorite athlete on this list, though, from an attitude standpoint. She's been open about how remaining a virgin is the toughest thing she's ever done and frequently tweets gold like this.
Because Jesus needs a brother. https://t.co/q7zR8JS21V — Lolo Jones (@lolojones) August 5, 2016
3. Philip Rivers
Yeah, shocking but true! Sure, the Chargers quarterback now plows it like an Israeli farmer the day before a sabbatical year, but it wasn't always that way. Rivers is happily married, but he was, like, awkwardly open about him spiking his ball right before the end zone.
Like wayyyyyyyy too open.
Holy eff make it stop.
WHAT DID I DO TO DESERVE THIS?!?!
4. AC Green
If you're younger, there is a good chance you've never heard of Air Conditioner Green (I have no idea if that's what his name stands for).
He was a fairly key member of some Lakers championship squads and made the All-Star team in 1990, but he never came close to getting the lasting name recognition that teammates Magic Johnson and Kareem Abdul-Jabbar garnered.
If there was one thing being in LA on a championship-caliber team in the '80s and '90s meant, it was you essentially had your choice of lady docking bays for your underwear's space cannon.
AC didn't partake, though. His space cannon did not dock until it docked for life in 2002 with his wife Veronique.
5. Manti Te'o
Manti probably had the most proof out of anyone on this list he was, at least for some long stretch of time, a virgin. His girlfriend literally didn't exist, and he was super duper religious, so like, it was impossible for him to throw that DYUCK anywhere aside from a jockstrap.
This is Manti's current girlfriend, so idk if that virginity thing is still happening…
6. Kaká
I'm going to be honest, I don't know much about this dude aside from the facts he plays soccer, people seem to like him and he didn't boink. He supposedly waited until marriage to get all up in durrrrrrr.
That's it. I have zero other info.
Here is a 16-minute compilation of him scoring goals.
7. Collin Klein
I debated whether or not to put Klein on the list as he's a CFL quarterback, and until they play with four downs, I refuse to take the league seriously. But he was a legit college QB and almost won a Heisman at some point, so I'll throw him on the list.
He also claims his first kiss was at the altar. So points for going above and beyond.
8. Prince Amukamara
The last one on my list is "Black Tim Tebow" -- as he called himself for some reason. Why would someone want to be called that? I don't know. But he was a devout virgin until he got married.
Finally SMUSHING was supposedly such a big deal for him, it literally changed him as a player.
After he got married, teammate Antrel Rolle told NJ.com Amukamara was playing significantly better, reasoning,
For one, he's married, so he's [enjoying some things that he wasn't experiencing before he was married]. For a man, that could definitely help him out. For a man … I'm just being honest … it's helping him out. He walks around with a little more swagger, which is something that we need.
Peace be with you.