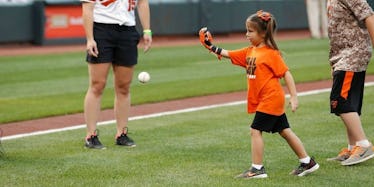 5-Year-Old Uses Her Robotic Hand To Throw First Pitch At Orioles Game (Video)
Hailey Dawson was born with Poland syndrome, so for most of her life she had no use of her right hand.
Then, thanks to the UNLV engineering department, the 5-year-old received one of the greatest gifts imaginable.
After Hailey's mother, Yong, reached out, UNLV created a custom Baltimore Orioles-inspired prosthetic hand for Hailey.
And last night, she used her right hand to throw the first pitch before the Orioles took on the Oakland A's.
It was an unbelievable moment combining sports, science and human emotion in a way that up until recently would've been impossible.
The more stories we hear like this, the less we feel hopeless in the face of adversity.
Citations: 5-year-old Hailey Dawson tosses out first pitch at Orioles game with her robotic hand (For The Win)