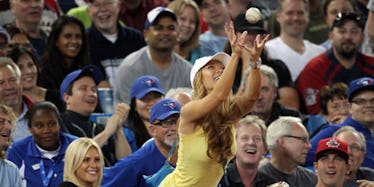 5 Ways To Make Your Girlfriend Fall In Love With Sports This Spring
Facebook
There is just one more week until the official season of spring. The beautiful season officially begins March 20, marking the end of a brutally cold and snowy winter.
So, as the temperatures start to climb, how do you intend to enjoy the warmer weather? If you are an active sports lover, you are probably excited to get out and about and start playing your favorite sports.
However, what happens when you are in a relationship and your current girlfriend isn't as excited about spring, let alone about the thought of your upcoming sports schedule?
Luckily for the guys, Amy Heart, the founder and host of "Sports with A. Heart" has some tips on how to get your girlfriend involved in your athletic life this spring, whether you will be enjoying flag football, basketball, field hockey, kickball, etc.
Heart built and launched her impressive career with her sports talk radio show on Fox Sports 920, "Sports with A. Heart." Each week, she interviews top celebrity athletes, focusing on the heart that lies within each player.
She has successfully created her own brand of sports radio marketing that illustrates the empowering emotions that lie within high-caliber athletes.
Fellas, if you want to get your girlfriend more involved, playing by your side and not sitting on the sidelines this spring season, start reading now:
Personalize the game
If your girlfriend isn't into the game, you can engage her through the players' personal stories. An athlete's back story can be interesting. For example, remind her Tom Brady is married to Gisele Bündchen.
You can also talk about how Cincinnati defensive tackle, Devon Still, was cut by the Bengals, but the team decided to offer him a spot on the practice squad.
This allowed him to continue to receive a salary and health insurance from the club that would help support his cancer-stricken daughter.
Teach her the rules
Sometimes, people hate watching sports because they have no idea what's going on. Some girls might be afraid to ask questions during the game because they are shushed or answered with exasperated sighs.
If you take the time to explain the rules, the plays and the history of the game, it is more likely your girlfriend will enjoy watching with you and your friends.
Take her out to the field and explain to her what a field goal is, or to a basketball court and explain what it means to double dribble.
Involve her
Buy her your team's jersey and take her to a game. The moment there's an exciting play, she'll get carried away by the roar and enthusiasm of the crowd.
If you can't make it out to a game, bring her to a tailgate with a dozen friends or a huge viewing party at a bar where she can experience the excitement of the fans.
There are plenty of opportunities this spring with sporting events at your local parks.
Personalize the ritual to her tastes
The party, the food and the beer are all rituals to the act of watching sports.
If you're having people over, make it a balanced group (instead of a bunch of your bros) and diversify the food and beverages.
Watch sports movies
Sports movies do a great job in dramatizing the action on the field and can help her connect with certain aspects of the sport (like heart and determination in the players).
Spring is about using all that stored-up energy from winter and putting it into action. There is no reason why you and your partner can't be more active together. You taking the time and energy to involve her will go a long way, undoubtedly.
Make the most of the warmer weather as spring approaches; take this advice and you may be surprised by the results. A little healthy competition never hurt a relationship, right?