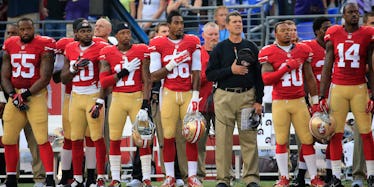 This 49ers Fan Murdered His Friend To Avoid Paying A Super Bowl Bet
Getty Images
In today's WTF news, a New Jersey man was just convicted for killing his friend over a bet they placed on Super Bowl XLVII.
As a result of the Baltimore Ravens defeating the San Francisco 49ers in the NFL's 2013 championship game, Eddie Roberson was due to pay his friend $700. Instead, he decided it would be easier to just kill his friend.
Two days after the game, the 31-year-old Roberson shot his friend, Talif Crowley, six times on a street in Newark.
The prosecution in the case alleged Roberson didn't want to pay his $700 debt because he felt his team, the 49ers, was cheated in the 31-34 loss to the Ravens.
Roberson reportedly has three prior felony convictions for guns, drugs and eluding.
Eddie Roberson should've been out $700 to a friend. Now, he'll probably spend the rest of his life behind bars.
Citations: 49ers Fan Kills His Best Friend To Avoid Paying Him A $700 Super Bowl Bet (Total Pro Sports)