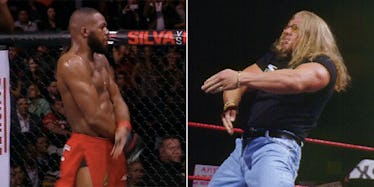 These 11 Pro Athletes Would Definitely Make It As WWE Superstars
Rule of thumb: If you meet people who didn't grow up watching wrestling, don't trust them. Ever.
Sure, it's easy to complain about the product today, and with no current stars on the level of legends like Stone Cold, The Rock or Mankind, it's also easy to not give a damn.
To combat the lack of superstars out there reaching for that proverbial "brass ring," we have a solution to make things interesting again.
Why doesn't the WWE take a page from Eric Bischoff and WCW during the "Monday Night Wars," and start buying its competition? I'm not talking about TNA, either.
I'm talking about the NBA, the NFL and the UFC. Hell, even the MLB has some young blue chippers who could raise hell.
Guys like Brock Lesnar, Roman Reigns and even Dwayne Johnson all got their starts in football, and it would only make sense to see more athletes from other sports cross over into the squared circle.
Adding more people from other walks of life to the roster could be beneficial to the sport, and most importantly, to the fans.
Jon Jones, aka... BONES JONES!
In addition to being one of the most dangerous fighters on the planet, Jon Jones also happens to be the f*cking man.
He has the athleticism to thrive in the wrestling ring, the cockiness to control the crowd on the mic and the versatility to be either a fan favorite or a heel.
Jones also grew up a wrestling fan and knows what it takes to be a champion. The man is definitely main event material.
We can only pray once the UFC light heavyweight champ decides to retire from MMA, he enters the WWE and brings back the new age DX.
Wrestling Comparison: Shawn Michaels
Finishing Move: Sweet Spinning Back Heel Chin Music
Rob Gronkowski, aka... THE GRONK!
At 6'6" and 265 pounds, Gronk was born to be either a wrestler or pro football player.
Luckily for the Patriots, he chose the latter, but picture this dude in the ring... With brute strength to protect his ladies, he'd be a womanizing character for sure, much like The Godfather and his Ho Train.
But, Gronk is much more athletic and could be a high flyer. Imagine this man coming off the turnbuckle; it'd be nothing but destruction.
As for his microphone skills, let's just say he'd be on par with Roman Reigns. That strength, though!
Wrestling Comparison: Val Venis
Finishing Move: The Gronk Head Spike
Yasiel Puig, aka... VIVA LA PUIG!
At just 24 years old, Yasiel Puig is one of the most remarkable athletes in MLB history.
While his lack of English might hurt him on the mic, his ability to perform in the ring will outweigh any form of miscommunication.
However, his impressive dance moves separate Puig from any other performer in the WWE today. We think The Worm will probably be incorporated into his finisher.
Wrestling Comparison: Eddie Guerrero meets Scotty 2 Hotty
Finishing Move: The Worm
DeAndre Jordan and Blake Griffin, aka... Lob City Protection Agency
Talk about imposing forces. The Ascension tried its best to be a modern-day Legion of Doom, but sh*t is just not working.
You need actual intimidating forces to pair, and what more unstoppable front court is there than that of Lob City?
Blake Griffin is 6'10" and DeAndre Jordan is 6'11". Together, they would form the most fierce tandem since The APA dominated.
Wrestling Comparison: Farooq & Bradshaw (The APA)
Finishing Move: Alley-Oop Clothesline From Hell
Ronda Rousey, aka... ROWDY RONDA!
You know we had to put a Diva on here. And "Rowdy" Ronda Rousey is as badass as they get.
She's mean, ruthless and she's bad as hell. That's all you really need to become Divas Champion. Just imagine the rivalry between Rousey and Nikki Bella!
The 29-year-old would be in her prime if she decided to leave the UFC today, but even if she starts wrestling when she retires, who's going to stop this?
Wrestling Comparison: A cross between Lita and Chyna
Finishing Move: The Arm Bar
LeBron James, aka... KING JAMES!
LeBron James is the people's champion. He's a fan favorite all the way and a guy kids will look up to, regardless of if he ever goes heel.
He's an athletic specimen and borderline freak of nature who could justifiably be the heavyweight champion the day he walks in the door.
Of course, every hero has his fair share of enemies, and let's just say he's wronged a few people down in Miami.
Wrestling Comparison: The Rock
Finishing Move: The People's Headband
Ndamukong Suh, aka... DONKEY KONG SUH!
This guy is ruthless for no damn reason, and that's a good enough reason for him to be in the WWE.
Ndamukong Suh is one of the biggest free agents in the NFL this offseason, but just imagine how wild it would be if he didn't opt for any of the 32 teams and started wrestling.
It's a stretch for sure, but he has that ground stomp perfected to a tee. Clearly, somebody grew up watching wrestling.
Wrestling Comparison: Viscera
Finishing Move: The Groin Kick
Dwight Howard, aka... THE DWIGHT SHOW!
Man, do we love to hate him. And that makes Dwight Howard a great wrestler already!
He's the type of WWE superstar to turn on his allies out of nowhere (ie Seth Rollins or Big Show) and laugh in the crowd's faces knowing he planned to leave the whole time (ie Orlando and Los Angeles).
Of course, he has the physical attributes to stack up and compete for the heavyweight title, and we've all seen how he acts when he actually gets mad.
Wrestling Comparison: Big Show
Finishing Move: Smile In Your Face Choke Slam
Richard Sherman, aka... SHERWEEZY!
What is there to say about the best cornerback in the NFL?
He's a superstar and he knows it. Plus, he rolls around with one of the most dominant stables in the game: LOB.
As the fearless leader for the Seahawks, he does most the talking and, of course, he can back it up. Other wrestlers in the locker room might hate him, but they have to respect him.
Wrestling Comparison: CM Punk
Finishing Move: The Don't Try Me Pedigree
Tom Brady, aka... TOM TERRIFIC
What would the WWE be without its baby-faced hero?
Tom Brady exemplified greatness at the quarterback position, and who's really trying to argue the supermodel-bagging champion can't be a great wrestler?
At 6'4", he's big enough to hold himself in the ring, but we all know Vince McMahon isn't going to let the face of his company go out there and get hurt.
He's a winner and a role model. You can either hate him or love him, but he's the best!
Wrestling Comparison: Ric Flair
Finishing Move: Tommy's Figure-Four Leg Lock
Bonus: The Seahawks And Patriots Are A Modern Day D-Generation X And NWO
Read more here.