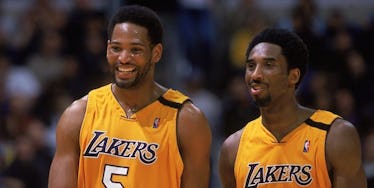 10 Fascinating Truths About Shaq And Kobe's Dysfunctional '03-'04 Lakers
Getty Images
There are very few championship runners-up that basketball fans remember.
That's not the case for the 2010-2011 Miami Heat, though, who you'd remember in part because the team was such a juggernaut on paper that it came as a shock to see them lose to the Dallas Mavericks in the NBA Finals.
The 2003-2004 Los Angeles Lakers are remembered for similar reasons and so much more.
The fact that Gary Payton and Karl Malone joined Shaq and Kobe in La La Land was interesting enough, and the fact that they didn't end up winning the Larry O'Brien trophy was even more so.
Their defeat in the 2004 Finals to the Detroit Pistons also marked the end of an era that saw the Lakers win three championships, and the departures of practically every figure (from Phil Jackson to Derek Fisher to Shaq) that mattered on the court not named Kobe Bryant.
In some ways, their failure turned out to be more intriguing than their success would have been.
How exactly did this time not work out? Bleacher Report put together a brilliant oral history that answers that question.
Here are the 10 most fascinating facts it revealed about the 2003-2004 Lakers, with quotes from B/r's piece:
Shaq Recruited Gary Payton And Karl Malone
Shaq: A lot of people ask me, what was my part in attracting Gary Payton and Karl Malone to the Lakers, and my answer is simple: I did it... I was on the phone with those guys once or twice a week.
Gary was a little bit easier job, because he was ready to get out of Seattle. The Karl Malone thing was a little tougher, but eventually I got it done.
Everyone felt like they'd easily win the title
Teyshaun Prince: When it happened, my first reaction was, "We're pretty much handing them the title right now." Obviously, we didn't know at that point how good we could be.
We didn't have Rasheed [Wallace] yet and we didn't make the trades to make us a better team. So at that point, we definitely felt like they were the front-runners.
Rick Fox risked injury just to have a chance at starting
Fox: "Returning from a torn ligament in my foot, I did everything I could to make it to training camp. It was unrealistic for me to think I could participate, but I'll be damned, I tried.
I wanted to be in that starting lineup as the fifth Beatle. I was willing to risk reinjuring myself to make sure I was part of what we all thought was going to be one of the greatest teams ever."
Karl Malone paid $15,000 for the rights to haze Luke Walton
Walton: "It's Shaq and Karl and Kobe and GP and they tell me as a group, because of my father, they had a bidding war on the flight over to decide whose rookie I was going to be—to pretty much make my life hell. Karl paid like $15,000 to make me his personal rookie for the year
... I had to take this 30-minute taxi ride to some suburb in the snow to get him these nice $100 pair of headphones and the next day we're getting off the plane and I see them just sitting in his chair. He's already off the plane. ... So he sent me to get more headphones."
Malone's injury devastated their season in multiple ways
Payton: We started off the season 18-3. Then all of a sudden Karl got hurt. He was controlling our offense.
He was running that triangle, making us more comfortable, especially myself.
Karl had never been hurt in his career, and it was a devastating injury that he couldn't deal with. He had never missed that many games in his life.
Walton: When he got hurt, not having him out there being an anchor, you just noticed something left the team
Fox: We got off to such an incredible start. Everything everyone expected us to be, we appeared to be that.
Then Karl went down. And then there were challenges of what were we going to be, as we increasingly reached moments of debate on how we should play.
And then Kobe's trial dominated our weekly conversation amongst the team and in the newspaper and the media.
Kobe would basically walk into games minutes before they began after traveling from pre-trial hearings in Colorado
Mark Heisler, Los Angeles Times columnist: There was one game where Kobe had just flown back from Aspen and he had this incredible game. He was so exhausted. They were giving him fluids at halftime. This harrowing experience pulled them together.
Walton: What was incredible about him is that there were nights he'd fly back from Colorado and Kareem Rush would be in the starting lineup and literally would get announced and Kobe would come straight from the airport, change and before the announcement ended and the jump ball started, he'd get out there, no warm-up, and just come out and score 42 points and be the most focused—like he didn't have anything else going on.
Everyone's contracts were an elephant in the room
Fisher: "We all kind of had our own things. I had floating in the back of mind not starting anymore and it being an option year, as far as my contract. And Shaq was having his [contract] thoughts. Phil was trying to decide if he may or may not come back next year.
You could see all the thought bubbles floating around our space when we moved around. That's actually what makes it almost remarkable and incomprehensible that team still made it to the Finals that year."
Shaq threatened to kill kobe
John Black, vice president of public relations: "They would say something about the other, on or off the record, but it didn't become confrontational more than two or three times over the eight years.
When Kobe gave the statement to Jim Gray where he went off calling Shaq fat and lazy, that was one of the times. There was one really bad one, early on. Brian Shaw had to pull them apart. Shaq threatened to murder Kobe."
The Pistons baited the Lakers into showing a lack of chemistry by leaving Shaq in single coverage
Chauncey Billups: "What's going to happen is Mr. Bryant is going to get a little discouraged with getting no touches and now the second half comes around…now he's pressing.  He's going to start coming down and just breaking the offense.
When you do that, you're done—you're playing right into our hands. Even if you start making those shots, you're finished."
Despite leaving, Shaq says it could've all been different
O'Neal: "If I had one wish, I wish we could have gotten those guys a couple years earlier. Karl was older. GP was older. Wish we could have gotten them towards the end of their prime.
And you know, I think we would have won that series. And then, if Karl doesn't get hurt, I'd probably still be a Laker to this day."
Citations: An Oral History of the 2003-2004 Los Angeles Lakers, the First Super Team (Bleacher Report)