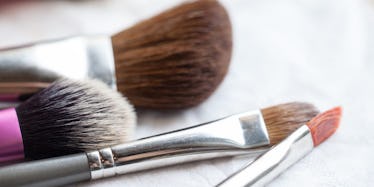 Zoomed-In Pics Of Makeup Brushes Show How Gross Your Beauty Products Get
Catherine MacBride
I remember sitting in the dermatologist's office (multiple times) as a teenager.
The breakouts I endured were downright horrific, and I could never pinpoint what the hell was causing them.
I drastically changed my diet, took antibiotics and went on birth control in effort to make the acne subside.
I was completely beside myself, but eventually discovered the culprit of the pimples. Believe it or not, it was my dirty makeup brushes. They were grimy AF and I didn't even know it.
The moment I washed them in the sink with antibacterial soap for the first time, a spew of pinkish-beige liquid oozed from the bristles and rushed down the drain like a murky makeup river.
It was really, really gross.
I can't even imagine what the brushes looked like up close before the wash-down, but thanks to an Imgur user named Onionyeoja, we're able to see just that.
According to Cosmopolitan, Onionyeoja used an iPhone and a Mpow macro lens to snap up-close photos of dirty makeup brushes and posted them online.
The pictures show teeny-tiny specimens and makeup particles accumulating on the brushes, along with the amount of time since they've been washed.
FYI, they're not clean unless you clean them.
If you're a gal or guy who uses makeup on the reg', please be advised that these pictures will make you seriously re-think the way you store your brushes.
Here's what a blush brush looks like after only two weeks of use:
Let's not forget about the powder brush that's crawling with germs after just three weeks:
The almighty foundation brush looks pretty gnarly five days after it's cleaned:
I wouldn't want this eyeshadow brush anywhere near my eyes after four days of use:
What the hell are those strands on this eyebrow pencil?!
This eyeliner brush has only been used one time (ew):
Keep in mind, these photos were taken a few days after being washed.
Can you imagine what your brushes look like after a year of being neglected?!
I don't even want to know what kind of grime I've been patting my face with every day.
I guess it's time for a new regimen that includes soaking these bad boys regularly.
Citations: These Zoomed-In Photos of Used Beauty Products Prove Just How Dirty Your Makeup Really Is (Cosmopolitan), Makeup up-close using Mpow Macro Lens & iPhone 6 (Imgur)