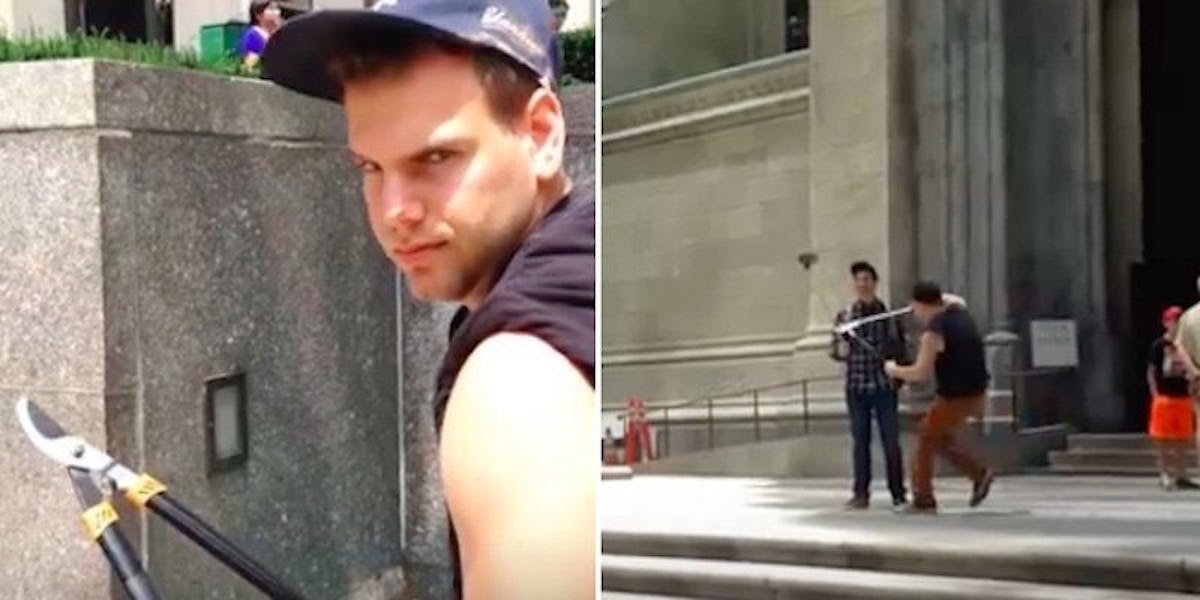 YouTube Vigilante Runs Around Cutting People's Selfie Sticks In Half Mid-Pic
Not too long ago, we introduced you to the fashion vigilantes behind the Stop The Knot campaign.
You know, those guys who crusaded through the streets of South Africa and snipped off every hipster man bun that crossed their paths?
Well, it turns out those hairstyle heroes aren't the only vigilantes on a mission to seek and destroy the stupid things that annoy the hell out of everyone on a daily basis.
Allow me to introduce you to Buddy Bolton.
Bolton is a brave YouTube prankster who recently decided to take the selfie stick epidemic into his own hands by running through the streets of New York City and chopping tourists' selfie sticks in half with a giant pair of hedge trimmers.
Bolton posted a video that shows him running up to unsuspecting selfie violators, destroying their sticks and then running off in a flash, along with a caption that reads, "We were sick of selfie stick tourists in NYC, so we decided to do this."
There's no denying this prank is pretty damn funny, however, a lot of people are raising questions as to whether or not Bolton's actions are ethical.
While some people think Bolton is a sheer genius who's helping to rid the overcrowded sidewalks of selfie sticks, others feel this urban activist is a villain who doesn't give AF about destroying other people's personal property.
Check out the video to see this prankster out on selfie stick patrol.
Citations: This Guy Is Cutting Tourists' Selfie Sticks In Half, And People Can't Decide If He's A Hero Or Villain (Bored Panda)