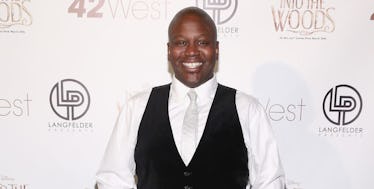 You Can Finally Buy Tituss Burgess' Pinot Noir, AKA 'An Ode To Black Penis'
Getty Images
We all wanted to get a taste of "Peeno Noir" after watching Titus Andromedon (inarguably the best character to grace Netflix) sing about it with goosebump-inducing beauty.
In case you're unfamiliar with the "Unbreakable Kimmy Schmidt" character and his fine wine pursuits, here's a quick recap:
Now you can buy Tituss Burgess' very own brand of red wine directly off his website or from a grocery store in the very near future. He made the announcement on his Instagram account, writing,
To be enjoyed by all the fabulous Kings and Kweens. Pinot makes things fun. xo Tituss
You are right about that, Tituss.
I think I'll pair my Pinot Noir with some caviar... While driving a mid-sized car to Myanmar, going to a leather bar for a date with... Tom Berenger?
Hey, I try.
Citations: Unbreakable Kimmy Schmidt's Tituss Burgess now has his own brand of pinot noir (A.V. Club)