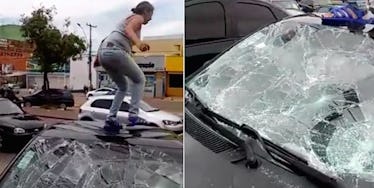 Woman Totals Her Husband's Car After Catching Him With His Side Chick (Video)
It might be side-chick season, but that's no excuse for getting caught.
If you can't keep your alternative lifestyle on the low, then you probably shouldn't be creeping in the first place. Unfortunately, this one Brazilian man had to learn that the hard way.
In the video above, you'll see exactly what happens when a woman catches her man cheating in broad daylight.
According to Daily Mail, the unidentified pregnant woman found her husband with his lover at a restaurant and then proceeded to go outside and smash the f*ck out of his car -- all with sandals on!
She went crazy, shattering the windshield and destroying the roof. Ultimately, she grabbed a giant rock and chucked that sh*t at the whip. It's now safe to say the whip is completely cooked.
If you thought that was bad, just imagine the awkward car ride home!
Citations: Furious pregnant Brazilian wife is filmed smashing husband's car with rocks and her bare hands 'after finding him having lunch with his mistress' (Daily Mail)