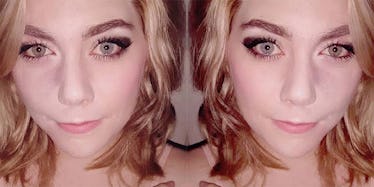 Woman Shows Off Birthmark After Being Told It Makes Her 'Undateable' (Photos)
After years of hiding her birthmark under layers of thick makeup, a young woman dubbed "too ugly to love" is finally baring it all, and the world is taking notice.
Lexxie Harford was born with a large, purple birthmark on her face. After years of torment for her unique feature -- she was asked to star on TLC's "Too Ugly For Love" and Channel 4's "The Undateables" -- the brave beauty decided to proudly show off her skin on social media.
In an album of selfies posted to Imgur, the 23-year-old Harford said,
I'm absolutely not self conscious about it at all. I actually like it a lot.
Harford seemingly hoped by showing off her own unique beauty, she could raise awareness and inspire others to do the same.
Check out the beautiful shots below.
First thing's first: Lexxie Harford is stunning.
She covered her skin with makeup for years, but she recently decided to show the world her true self -- birthmark and all.
According to Harford, people often mistake the mark for a bruise.
She reportedly said, "The whole thing that I want to do is teach people what a birthmark is... so people might feel comfortable showing [theirs] off."
It's clear from these photos Harford is not "too ugly to love."
In fact, the blue-and-green-eyed woman is just the opposite: a true beauty.
Go get 'em, Lexxie!
Citations: Woman Told She Was 'Too Ugly To Love' And 'Undateable' Proudly Shows Facial Birthmark - She's Tired Of Hiding Under Make-Up (Huffington Post)