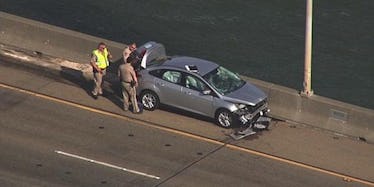 Woman Runs Over Ex-Husband And Friends Outside Divorce Court, Jumps Off Bridge
CBS San Francisco
Yesterday we showed you a shocking video of a woman beating up her cheating ex-boyfriend.However, one California woman did something completely unthinkable after emerging from divorce court on Monday morning.
However, one Californian woman did something completely unthinkable after emerging from divorce court on Monday morning.
If there's one thing we can learn from these videos, it's that love can totally make you lose your head and send you spiraling into a blind rage.
Unfortunately, that scornful ex-girlfriend isn't the only woman who has let her emotions get the best of her.
On Monday morning, a woman allegedly ran over her ex-husband and two friends after leaving a divorce hearing at the Family Law Center in Martinez, California.
According to police, 60-year-old Kimberly Goldman accelerated and hit her estranged husband along with two of his female friends, then put the car into reverse and hit one of the female victims a second time.
If that's not tragic enough, police believe that Goldman then drove to the Benicia Bridge where she allegedly jumped to her death.
The husband and his friends were rushed to a local hospital and treated for moderate injuries sustained during the hit and run.
Christina Parson, 30, happen to be walking with her friend's baby stroller across the street when this unexpected vehicular attack occurred and witnessed the whole shocking event.
According to Parson, "It was deliberate. You can tell it was. An officer came running out of the courthouse, and I screamed for him to get help."
Another witness, Wilfredo Manuntag, allegedly told CBS that Goldman hit her husband's car so hard that it actually resulted in a three-car pileup.
In addition to these witnesses, there were also a few good samaritans on the scene who rushed to Goldman's car and tried to stop her by smashing her driver-side window, however, the enraged woman sped off.
Police then received a report that a woman had thrown herself off the side of the Benicia Bridge approximately 20 minutes after the terrifying hit-and-run attack.
The US Coast Guard recovered the body in the waters below and confirmed that the victim was, in fact, Kimberly Goldman.
The vehicle left on the Benicia Bridge matched the description of the vehicle Goldman was driving during the hit and run outside of the courthouse.
Eric Ghisletta of the Martinez police stated, "Based on all indications, it appears it could be the same woman."
The outcome of this divorce certainly had a tragic end that no one saw coming.
Citations: Woman, 60, runs over her estranged husband and two of his friends outside court after divorce and then speeds off and jumps off a bridge to her death (Daily Mail)