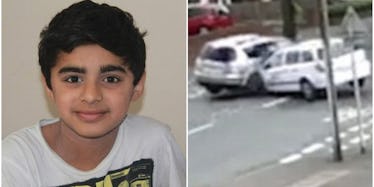 Woman Releases Video Of Son's Fatal Car Crash For Heartbreaking Reason
West Midlands Police
A devastated mother has released heartbreaking footage of the car crash that killed her 12-year-old son.
Sukhi Atwal says Amar was not wearing a seatbelt when the Mitsubishi Outlander he was in was hit by a taxi in West Bromwich, UK.
The footage, issued by West Midlands Police as part of a seatbelt awareness campaign, shows the cars plow into each other on a sleepy street in May 2015.
In a heartbreaking video, Sukhi says she feels like she's "failed as a mother." Recalling the day of the crash, she said,
A neurosurgeon came in and told us what injuries Amar's got. And I knew it was serious and we were given 24 hours. I remember one saying to another, "it's negative," and I knew then there was nothing they will be able to do. That's the last time we saw him.
She added,
I keep thinking, why didn't I didn't drill it into him more -- how important it was to wear that seatbelt.
Sukhi said she will always remember her son for "that smile on his face."
West Midlands Police special constable Clive Broadhurst was part of the team who made the campaign video to drive home the importance of wearing a seatbelt.
He said,
I regularly go around schools to give road safety advice and urge pupils to be strapped in. It can prevent serious injuries, or even save your life. It has been the law for more than 30 years to wear a seatbelt. It only takes a few seconds to buckle up, but it is surprising the amount of people who still don't. It is very brave of Sukhi to share her experience and hopefully it will hit home how wearing a seatbelt can make a difference. She doesn't want any other family to suffer the heartbreak she has had to endure.
Citations: Mother releases footage of moment her son was killed to remind us all to wear seatbelts (Metro)