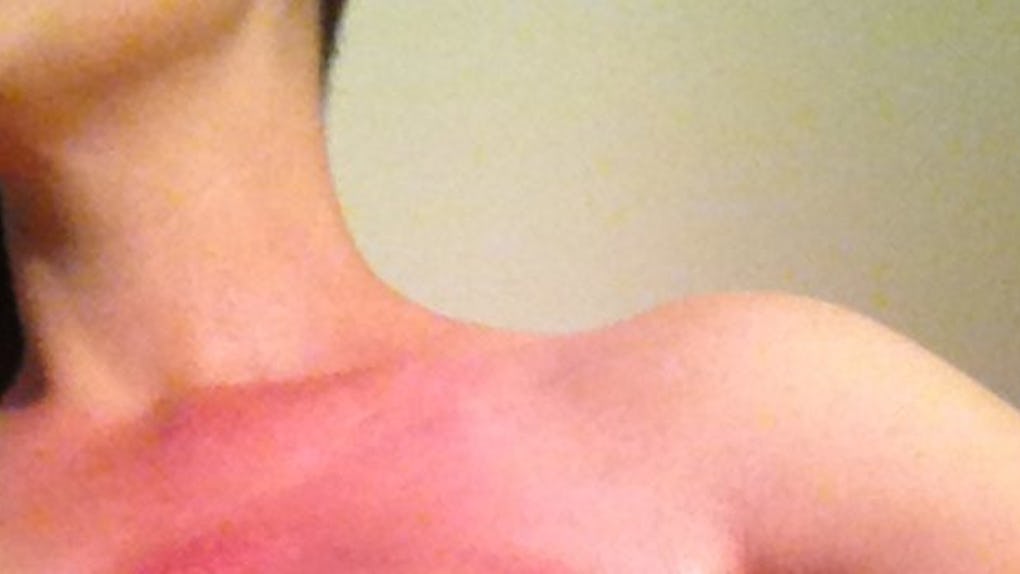 Tumblr
Brave Woman Shares Radiation Photos To Show The Reality Of Breast Cancer
Breast Cancer Awareness month was created with the best of intentions: to raise awareness for the devastating illness in the hopes that doing so will one day help us find a cure.
Somewhere along the way, however, this goal became diluted.
Instead of sharing statistics about breast cancer, people wear pink and share selfies; instead of teaching women how to check for lumps, people celebrate healthy breasts by going braless (or by putting bras on display).
In honest attempts to support the cause, we've all forgotten its most important mission: to promote education and, more importantly, develop treatments.
After 36-year-old Jenn Alter underwent treatment for breast cancer in 2013, she realized how futile attempts to "support" the cause have actually become.
Nobody prepared her for the reality of the disease -- for the pain, the suffering and the constant fear.
So earlier this month, Alter took matters into her own hands.
The survivor re-posted a pair of graphic photos of her scarred breasts to Tumblr in an attempt to show women what a breast cancer diagnosis really means.
About the photos, which were originally posted in 2013 with the caption, "Here's your f*cking breast cancer awareness," Alter wrote,
This was during my 35 day radiation treatment back in 2013. Breast cancer isn't sexy. It's not about saving the boobies. It's not about no bra day, which is really just an excuse for women to post sexy pics of their nipples pressing through their clothes. It's scars, nausea, pain, bald heads, burnt skin and broken hearts. If this doesn't make you 'aware,' then I don't know what will. Does it make you uncomfortable? It should.
The reactions to Alter's images have been mixed. While many praised her bravery and strength in sharing the photos, many others requested she take the "uncomfortable" pictures down.
One even said Alter, with her critique of Breast Cancer Awareness month, was "being a bitch."
Alter addressed the controversy in a second post, thanking the many people who wrote to thank her for sharing the photos.
You can see both posts below. The photographs are NSFW and, as noted above, may be uncomfortable for some.
Learn more about breast cancer (including how to perform a self-exam) and donate here.
Citations: This Breast Cancer Survivor Posted a Graphic Radiation Selfie to Make a Brutally Honest Point (Cosmopolitan)