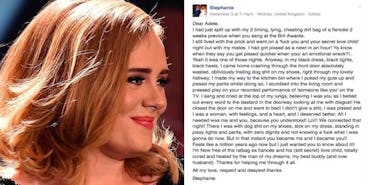 This Woman Who Posted About Her Breakup On Adele's Facebook Is All Of Us
Getty Images/Facebook
How Adele is able to sing the souls of seven billion people is a mystery, but with every song and every album, she encourages us to weep in public until we heal.
An Irish fan named Stephanie went so far as to share her Adele-sperience with the star on Facebook.
The Derry resident's story had everything: a no-good fiancé, a secret love child, alcohol, regret and, of course, Adele.
Commenters knew exactly how Stephanie felt because everyone worth his or her weight in bitter tears has made a major life decision while covered in his or her own bodily fluids and screaming Adele lyrics.
Heal us with your words, Adele. Heal us with your voice. Heal us with your winged eyeliner and your fancy coats.
We are forever devoted to you.
Citations: This woman shared her impressively honest break-up story on Adele's Facebook page (Mashable)