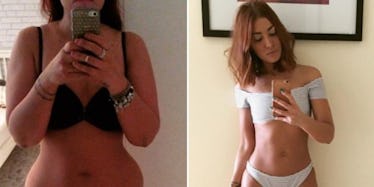 Woman Who Lost 70 Lbs Says Simple Instagram Trick Was Key To Transformation
Instagram
A newlywed woman is practically unrecognizable after she managed to shed an incredible 70 pounds in just one year.
Danielle French, 28, weighed in at around 186 pounds when she realized she "barely fit into any of her clothes."
After getting engaged, French dreaded the idea of shopping for her wedding dress.
French, a mortgage advisor from Barnsley, said,
After getting engaged, I continued to put on lots of weight until March 2015 when I got to my biggest and could barely fit in any of my clothes. I really didn't want to be a big bride and look at my wedding photos and hate what I saw. I wanted to lose weight a year before I got married so I could go and try wedding dresses on without hating everything I tried on.
After French and her now-husband booked their wedding for November 2016, the 28-year-old joined Slimming World, a UK-based weight loss organization, and began following inspirational weight-loss accounts on Instagram.
She said,
I had been unhappy for so long about my weight and tried so many diets that I could never stick to. I started looking on Instagram at weight-loss accounts, and there were so many inspiring girls that had lost weight. I decided I would give it a go, as it was one of the only diets I hadn't tried.
French then decided to start documenting her own weight-loss journey on Instagram to keep herself motivated.
It took the newlywed a full year to reach her goal weight.
On the day of her wedding, French walked down the aisle at Wentworth Castle in a stunning dress. She'd dropped a total of 70 pounds, and she was able to fit into a size six.
French said losing the weight has changed her life in countless ways. She's gotten her confidence back, and no longer feels the need to hide beneath layers of baggy clothes.
She added,
Before losing the weight I hated going out with my friends because I felt so self-conscious and awful in everything I wore. I was also really unfit and got out of breath really easily whenever I walked more than half a mile.
Plus, as a woman who suffers from irritable bowel syndrome, French said her healthier lifestyle has helped her cope with the symptoms of her condition.
She accredited her weight loss success to both Slimming World's program and her social media followers:
But on top of following Slimming World, I don't think I could have done it without my Instagram food blogging page and the support I get from all my lovely followers.
Congrats girl, and keep on slaying the weight-loss game!
Citations: Size 18 woman sheds FIVE STONE in the run-up to her wedding after fearing she would be a 'big bride' (and it's all thanks to Instagram) (MailOnline)