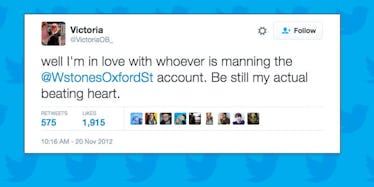 This Woman's One Simple Tweet At A Bookstore Found Her The Love Of Her Life
Twitter
You want romance that's worthy of "The Notebook?" We have it.
If you've ever hesitated to DM your Twitter crush, listen up: Victoria is total proof that slipping into someone's DMs can actually result in marriage.
She fell in love with the man behind a Waterstones bookshop account in the UK.
Victoria said she was dared by a friend to go on a date with Jonathan O'Brien, and ended up taking a real liking to him.
It all started back in 2012, with this tweet:
Then, on Sunday, she dropped this absolute bombshell:
Victoria said, "It took a couple of months. Jonathan ignored my first tweet, but the second had a typo and he picked up on that."
Everyone is loving this fairytale ending.
Her new husband found the whole thing hilarious.
Then, he seized his moment of fame in the only way a book nerd knows:
So, there you have it: a little bit of 20th-century love to thaw your icy cold heart on a Monday.