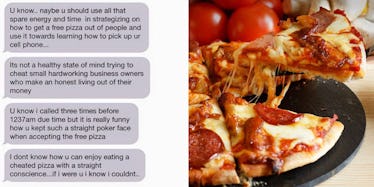 Pizza Guy Goes On Rude Rant About Woman's Weight After Late Delivery (Photos)
Shutterstock
Pizza delivery guy, WTF dude?! Stop RUINING pizza.
Nadisha Mendes and her sister were hangry AF last Tuesday night when they decided a heaping dose of vitamin P-I-Z-Z-A was the only thing that could solve their pangs.
They called local Canadian pizza joint Pizza Pizza, which apparently has a strict time policy of delivering within 40 minutes or your pie is free, and ordered some food to be delivered.
After 40 minutes of no pizza, Nadisha called customer service to find out what the status was on the delivery and to confirm the order did, in fact, go through to begin with.
A few minutes later, a pizza delivery man knocked on her door with the pizza in hand. She got customer service on the phone and gave the delivery guy the receiver to talk to them.
After the man and customer service talked, he informed Nadisha the pie would be free because of the chain's policy.
Free pizza. Great! It's the American dream, so I assume it's at least somewhere in the top five Canadian dreams. (The number one Canadian dream, by the way, is that new Canadian prime minister. Hachi Chachi! Dream me off a piece o' dat maple syrup-covered Canuck.)
But the night took a turn south a few minutes later when Nadisha started to receive text messages from the delivery guy.
He first claimed he was there in under 40 minutes, but Nadisha wouldn't answer her phone on purpose in order to take advantage of that sweet, free pizza deal.
Then, things got worse. The delivery guy went from angry to obscenely offensive, making condescending remarks about her weight.
Nadisha said Pizza Pizza was unresponsive to her calls when she tried to contact the company to complain.
A few days later, she eventually did get a call back from the district sales manager who said the driver was new and didn't know company policy about harassing customers and calling them fat through a series of borderline-threatening text messages -- the policy is not to do that, apparently.
The driver has since been fired from the chain, and Pizza Pizza offered Nadisha free food, but she said she doesn't plan on accepting it.
She also is reportedly scared for her safety as the delivery guy has all of her information.
Not chill.
Citations: RUDE DELIVERY DRIVER DROPS OFF ORDER LATE, BODY SHAMES CUSTOMER (First We Feast)