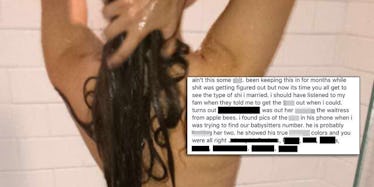 Angry Wife Posts Sexts From Husband's Mistress On Facebook And Tags His Family
facebook
What would you do if you found pornographic photos of your husband and another woman on his phone as you were looking up the babysitter's number?
It's fair to say most women would go absolutely mental.
But mental enough to post them on Facebook and tag your husband's family?
And the photos are pretty graphic.
An unnamed woman from Florida found X-Rated photos on her husband's phone of him with a waitress from Applebee's.
In her anger, she posted the photos on Facebook and tagged the scumbag's family. She also wrote a short but impactful introduction to the photographs that said,
now it's time you all get to see the type of shi I married. i should have listened to my family when they told me to get the fuck out when i could.
It goes on.
But seriously, what kind of IDIOT leaves nudes lying around on his phone?
And to make it 1,000,000 percent worse, the WIFE is now facing criminal charges. Posting the photos may be classified as revenge porn, which is illegal in the state of Florida.
That means the cheating husband may be able to prosecute his wife, as well as get custody of their two young children.
And to make it EVEN worse, the asshole is now apparently dating the waitress, who is 19 years his junior.
Citations: Dude Comedy