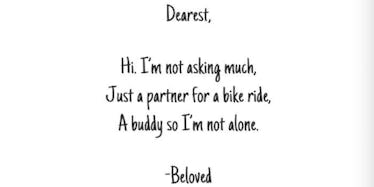 Widower Hands Out 100 Love Letters To Strangers As A Tribute To His Wife (Photos)
A widower and his children passed 100 love letters out to strangers as a reminder to express their feelings to those they truly cherish.
Catherine Zanga of Charlotte, North Carolina died on November 21, 2014 after battling ovarian cancer for over a year.
She left behind a husband, Hyong Yi, along with his 7-year-old son, Alex, and 10-year-old daughter, Anna.
Yi told PEOPLE as the anniversary of Zanga's death approached, he decided it was time to celebrate his late wife's love rather than wallow in sadness.
Of the anniversary, he said,
It was kind of like there was a hurricane, you knew it was going to hit and it was like do you hold on and wait to see the wreckage or do you do something about it. I decided I gotta do something about this.
In September, Yi began writing letters to Zanga that spoke of all the things he loved about her and sometimes recalled blissful conversations they had.
The activity made him realize how important it is for people to let their loved ones know how important they are before it is too late.
Last Wednesday, Yi posted a Facebook message asking users to write love letters of their own and post them to social media with the hashtag #100LoveNotes.
He wrote,
In daily life, we get so busy that we often forget to express our love for one another. We assume our loved ones will always be there. Today, I invite you to take a moment to honor the loves in your life. Let's remind ourselves what's most important in life – sharing our love with one another.
The posted love letters ranged from simple pick-me-ups...
Best card ever, from my favorite person in the whole world! #100lovenotes pic.twitter.com/AS1tLR7w56 — amalia (@guatemalia) November 20, 2015
...to poetic tributes that honor one's significance.
A little healing today. Share some love. #100lovenotes https://t.co/iGJy7T2PPz pic.twitter.com/EeZterGYY7 — Lynn S. Caldwell (@LocavoreMoxie) November 20, 2015
Others felt their feelings couldn't be described in words.
@tarheelmafia you are the love of my life! #100LoveNotes pic.twitter.com/fNNfZ8GF0Z — Christi Lee (@MtnGirlNC) November 20, 2015
On November 21, 2015, Yi and his two kids walked the streets of uptown Charlotte and handed 100 notes out to anyone who passed by.
The trio hoped recipients would be inspired to express their love or send Yi's notes to their loved ones.
Yi told PEOPLE,
One woman she read it, Anna gave it to her, and she ran back and found us. She was crying. She had read the note and she hugged me and she said she was so sorry for everything that happened. It was a beautiful thing.
This is one of Yi's notes.
Grieving husband writes #100LoveNotes in honour of his late wife https://t.co/HLv2XqJHO1 pic.twitter.com/BtEAqC7C3X — HuffPostUK Lifestyle (@HuffPoLifestyle) November 24, 2015
All 100 notes can be found at 100LoveNotes.com, which Yi created at the urging of some friends who had read his passionate tributes.
Yi now plans on making a book filled with the letters and further cementing his late wife's legacy of love.
Citations: North Carolina Widower and His Children Spread Love Handing Out 100 Love Letters in Memory of His Late Wife (People)