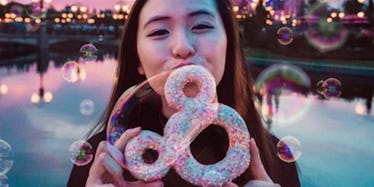 These Mickey Mouse-Shaped Donuts Will Make Your Dessert Dreams Come True
Courtesy of Michael Li
Disney Parks are known for their on-point dessert offerings, which sadly tend to differ from park to park. One international Disney resort, however, has just debuted sweet treat that should be available everywhere given its recognizable shape. And yet, even with potential travel involved, you don't want to miss where to buy Mickey Mouse-shaped donuts, do you? I, for one, do-nut.
The Mickey Mouse donuts are available at Shanghai Disneyland in China.
According to Shanghai Disney Resort's website, where the donuts are pictured in all their frosted and sprinkled glory, guests visiting Shanghai Disneyland can purchase them at Remy's Patisserie — for those unfamiliar, yes, that's a French-style bakery named after the talented chef rat from Ratatouille.
Though the website's menu section for Remy's Patisserie simply lists "sandwiches, pastries and buns, sweet offerings, fresh-baked cookies, and beverages" as its items, a scroll through the gallery of images provides a snapshot of what's actually on display inside the café. Including the donuts shaped like Mickey Mouse, obviously.
It looks like there are two different flavors: a plain donut with pale frosting and colorful sprinkles and a (presumably) cinnamon sugar donut dusted with sugar granules.
Both sound amazing, and judging by the onslaught of Instagram posts from Shanghai Disneyland, both are photogenic AF. Don't believe me? Just look at this magical photo shared by NYU Digital Media and Entrepreneurship student Michael Li (@michaellskyes) — complete with a show-stopping view of the fireworks show outside Cinderella's castle in the background. Seriously.
Li captioned the aspirational photo,
These donuts are linked by magic It's raining quite a bit in shanghai at the moment, going to head off to Hong Kong soon (for more rain haha) Let me know if any of you are there!
In addition to the A+ in-hand shot with the donuts, Li also captured a "#primeshot of someone more magical than Disney" -- at least, that's how he captioned another gorgeous shot of a girl kissing one of the frosted donuts' ears, surrounded by bubbles and a similar view of the iconic castle.
Why don't all Disney Parks have these donuts again? Is there a reason? Because I'd like to request them at U.S. locations ASAP.
I'm not sure how much they cost, but as with anything Disney, I only have one thing to say: "Take all my money."
While the Mickey Mouse-shaped donuts aren't available outside Shanghai Disneyland, U.S. Disney parks do have a few notable treats that are also worth my money.
Disney World in Florida, for instance, has Candy Corn Soft Serve, paying homage to the orange and white candy that's often synonymous with fall and Halloween. It will be on sale at the parks during Mickey's Not-So Scary Halloween Party on select nights until Nov. 1.
Keeping with the autumnal theme, Disneyland in California is after our pumpkin-obsessed hearts with  its Pumpkin Churros, which are available for $4.50 at Cozy Cone Motel, according to Delish. As with anything pumpkin, Twitter was promptly into it.
"I've been wanting pumpkin churros forever & they finally listened lol"
BRB, trying to figure out how to get them now.
I need them in my life.
And my sentiments are exactly the same for these Shanghai Disneyland's beautiful Mickey Mouse donuts. Sure, pumpkin churros and candy-flavored soft serve are amazing in their own right, but something about those donuts makes me want to hop on a plane to China.
It's only a matter of time before the internet erupts with glee over them, too. They're the very definition of Insta-worthy and deserve a spot on every Disney fan's timeline. Are you ready to look up cheap flights to China right now, or what?
Check out the entire Gen Why series and other videos on Facebook and the Bustle app across Apple TV, Roku, and Amazon Fire TV.