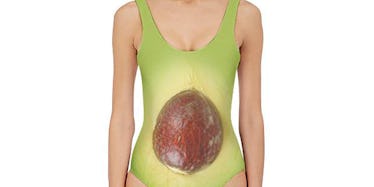 An Adorable Avocado Swimsuit Exists And We'd Definitely Pay Extra For It
Beloved Shirts
Beloved Shirts' avocado swimsuit is the most recent unnecessary (but totally necessary) addition to my online shopping wish list this summer.
The suit, which is available in both a classic and a high-legged cut, retails for $49.95.
One might say that's a lot for a bathing suit that actually looks like you're wearing an avocado half.
However, in the same way that Chipotle's delicious guac is a burrito must-have despite the extra money, this avo one-piece totally worth it.
Just look at the stunning HD details.
From the realistic green to yellow gradient hues that mimic a perfectly ripe avocado to the veiny seed placed right at the belly, Beloved Shirts has managed to capture everything joyful about slicing open the savory fruit, but in a water-friendly garment.
Like all Beloved Shirts items, including that eek-worthy Donald Trump swimsuit, the avocado one-piece is super soft and handmade in California.
Imagine strutting down the beach wearing the one thing that has inspired everything from pretty toast toppings to works of art.
It would be glorious.
The daring fashion brand said it best in their Instagram post on Saturday, July 8.
"Guac is extra, but so am I," they captioned their 'gram debuting the front and back views of their ode to avocados.
Their followers quickly responded in the comments, expressing straight up glee.
Many said it would be a fantastic maternity suit while others feverishly tagged their friends with various iterations of "I need this!" (Same.)
Twitter was equally thrilled with the latest in beach-ready avocado style.
As with anything avocado related, now that I've seen it, I don't think I can spend another moment of summer '17 without it.
I can already picture the Clarendon-filtered Instagram of my seeded torso glamorously resting (well, as glam as possible, okay?) atop my avo-shaped pool float.