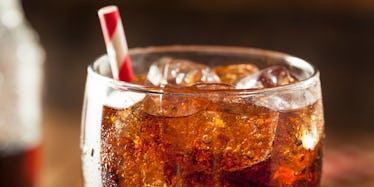 What This Guy Found In A Bottle Of Soda Will Give You Nightmares Forever
Shutterstock
The nasty surprise one 3-year-old kid found in his bottle of Dr. Pepper could successfully ward off the global population from drinking soda ever again. After drinking about half of a 20-ounce bottle of the beverage on Tuesday morning (which should be alarming in its own right), the toddler passed the bottle back to his grandparents.
It wasn't until they reopened the bottle later that they realized a dead rat -- I repeat, a dead rat -- had been floating in the soda the entire time. According to NBC 9, the Texas-based grandparents immediately took the child to a pediatrician who took blood and urine samples. From there, the pediatrician's office also contacted the CDC and the state of Texas.
Dr. Pepper, upon hearing the news, told NBC 9 it wanted access to the rat-infested soda for its own testing purposes, but the family plans to hang on to it to conduct research of their own.
In a statement obtained by Complex, the Dr. Pepper Snapple Group said,
Nothing is more important to us than the safety and well-being of our consumers. We take all consumer complaints very seriously, and we are very concerned about the call we received yesterday from Mr. Graves [the grandparent] about this issue. This is a single, isolated incident, and we're working hard to investigate and resolve the matter with this consumer. The controls and safeguards we have in our production facilities make it virtually impossible for any foreign object to get into a container at any stage of the bottling process. All of our containers are covered on pallets until the moment they are ready to fill. Once on our high-speed filling lines, bottles are turned upside-down and rinsed out before they are quickly filled and capped. Based on the production code we received from Mr. Graves yesterday evening, the bottle in question was filled during the early afternoon of April 26 at our Houston plant as part of a six-hour production run. Records indicate no stoppages in production at the time this bottle was on the filling line. In addition, a City of Houston health inspector was in the plant that very day on a routine inspection, which included among other tasks reviewing pest control measures, and the inspector saw no issues. As we investigate this incident, we are hoping the consumer will provide us with the bottle so we can have the contents analyzed by a qualified independent forensics laboratory and more completely understand how this might have happened. This lab can determine when and how a rodent might have gotten into the container, when it died and even examine the contents of its stomach Unfortunately, the consumer has so far declined this request.
Maybe do yourself a favor and take this as a sign to stop drinking soda altogether. Rat-flavored or not, it's pretty horrible for your health.
Citations: This Rat in a Bottle of Soda Is the Grossest Thing You'll See Today (Complex)