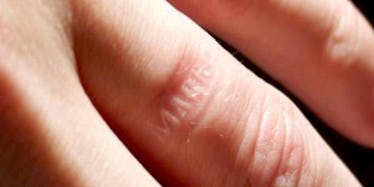 Wedding Ring That Brands 'Married' On Finger Sparks Heated Internet Debate
The Cheeky
If you need a wedding ring that will imprint the word "married" on your finger to assure those around you you're hitched, I'd question where your loyalties lie.
Why? Because branding yourself to remind people you're married shouldn't be needed if your relationship is a healthy one... right?
At least, that's what the internet thinks.
On Thursday, Jason of Beverly Hills – a jewelry brand – revealed a new ring they're selling. This ring literally brands your finger by imprinting the word "married" into your skin.
The ring's caption on Instagram reads "Branded! MARRIED." And apparently, some folks are skeptical.
They're debating whether or not the piece of jewelry is even needed if one's marriage is a loyal one. Because why would you ever remove your wedding ring in the first place?
By giving your partner this ring, you're basically branding him or her and ensuring that if your partner ever decides to take the ring off and cheat, his or her lover would know.
On the other hand, the imprint can be seen as a representation of your marriage in the case you forget to put your wedding ring on. This is very legitimate for forgetful humans like myself.
In fact, that's exactly why the ring was created in the first place.
A representative from Jason of Beverly Hills talked to Refinery29 about how the unique imprinting model came about.
She allegedly said,
Jason forgot his ring at home and Lisa, his wife, drove to his office to give it to him. Lisa made a comment that she wished the ring would leave a mark on him if he was going to keep taking it off, and the idea stuck with Jason. Originally making the 'married' ring for himself, other clients liked the idea and the ring has been a hit amongst friends and clientele.
That makes sense. I completely understand his reasoning behind creating the ring.
However, I'm still a little skeptical. I think branding your lover in order to assure he or she won't cheat on you screams "UNHEALTHY RELATIONSHIP."
But I've never been married, and most of my relationships have failed. So, what do I know?
The lesson here is this: If you're thinking about purchasing the ring, make sure you aren't doing it so your spouse doesn't cheat on you.
That's definitely a red flag, and it shows your relationship isn't as healthy as you think it is.