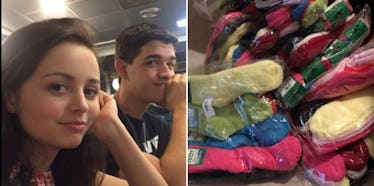 Teen Accidentally Gets GF 144 Pairs Of Socks And Becomes Internet's Ideal BF
Twitter
The key to a girl's heart isn't diamonds or dinner trips, or a bouquet of roses. No, sir, it's much, much more than that.
If you really want your lady to be head over heels in love with you, buy her a pair of fuzzy socks. Apparently, they're all the rage this holiday season.
Take it from Jackson Wade Knight, an 18-year-old internet hero who accidentally bought his girlfriend 144 pairs of the fuzzy foot warmers.
According to DailyMail.com, the Georgia teenager adhered to his girlfriend's wish to be given fuzzy socks and jewelry for Christmas but was surprised when the company he ordered from sent him more than what he paid for.
Apparently, the giving teen ordered 12 fuzzy socks for his girlfriend, Haven Prevatt, but instead received 12 dozen packs (aka heaven for sock lovin' females).
Knight spoke with BuzzFeed News about the surprisingly large package at his doorstep and how he immediately knew something was wrong with the order.
Upon opening the package, he discovered the fuzzy goods came in packages assorted in different colors.
To ensure he didn't make the mistake of ordering 144 pairs of socks online, he checked his bank account and was relieved to discover he was only charged $27.
However, he came to the conclusion both he and his girlfriend didn't need all the fuzzy socks to themselves, so he decided to donate them to a charity.
Apparently, he told BuzzFeed News,
I know some people were saying I could make a mad profit off them, but I think I'd rather play Santa Claus and either give them to my friends and cousins or go bring them to a homeless shelter.
Although receiving 144 fuzzy socks was obviously a mistake, the fact he ordered them for his girlfriend in the first place became admirable for single ladies across the web.
Hundreds of Twitter users have been swooning over him and his gift, wishing they could be in his girlfriend's shoes.
So, there you have it, boys. If you're in a crunch and trying to figure out what to buy your girlfriend for the holidays, get a pair of fuzzy socks or two...
... or 144.