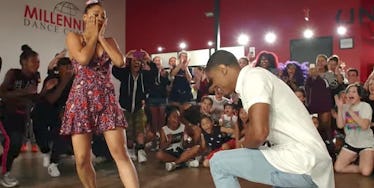 This Epic Dance Proposal Has The Cutest Ending And We'd Definitely Say "I Do"
YouTube
It's difficult not to swoon when a John Legend love song is playing, so throwing an epic dance proposal like this into the mix will guarantee uncontrollable tears of joy.
Phil Wright and Ashley Liai were performing a routine to "You & I (Nobody In The World)" at  LA's Millennium Dance Complex, and the choreography alone was enough to get us emotional.
The two move in perfect harmony and bring Legend's words to life. It's pretty amazing.
Everything is going along as planned, but a slight detail will hint that something about this routine is a bit different.
Did you catch Wright's hand? Doesn't it look like he's checking to make sure something is still in his pocket — something like a ring?!
As the crowd erupted in cheers, Liai waited for her partner to make the next move.
However, it was not the move she was expecting.
We already had tears in our eyes thanks to their routine and the lyrics, but now we're really about to turn on the waterworks.
What's even better is that the audience is just excited about this as Liai -- just take a look at those faces. Everyone's ready to hear a "yes."
Naturally, when something is this adorable and makes us believe in true love, we do what we do best: talk about it on Twitter.
Obviously, this is pure #relationshipgoals.
Watch the clip here:
For those of you who are wondering, it was a "yes!" Wright took to Instagram to share the news and the video.
He captioned one of the videos, "When EVERYTHING doesn't matter but the one you love ❤️ @ashleyliai!" The post was accompanied by a slew of thank-you's to those who helped make his special moment possible.
Yup. I'm going to have "out of all of the girls, you're my one and only girl" stuck in my head for the rest of the day.