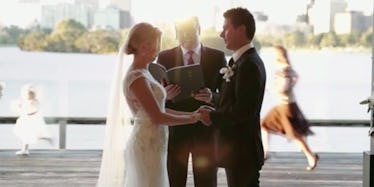 Flower Girl Makes A Break For It Right In The Middle Of Couple's Wedding Vows
DailyMail.com
Let's hear it for the little flower girl who totally stole the show at this wedding in Australia.
The setting couldn't have been more perfect for Tom and Katie Quirk. The two of them were happily exchanging their vows as they overlooked Albert Park Lake in Melbourne.
They obviously spared no expense when it came to documenting the event. The short clip has about 57 camera angles in it (and really fancy ones, with out-of-focus flowers in the foreground).
So there they are, telling each other how they're ready to spend the rest of their days together. Then, a flower girl makes a break for it.
The child is seen racing away from a woman behind the couple. She then disappears out of view.
Mrs. Quirk told Daily Mail Australia,
I was facing the direction Chloe was running from, but because I was looking at Tom, all I saw was this flash of white all of a sudden in my peripheral vision. And then I saw my sister-in-law madly running past and I was like, 'Did that really happen?'
Chloe: flower girl, wedding interceptor and maverick.