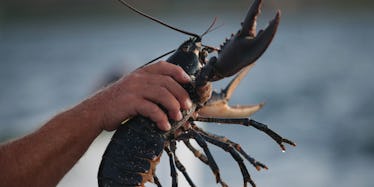 TSA Found A Huge Lobster Inside Luggage At The Airport, And We're Not Surprised
Sean Gallup / Staff/ Getty Images
Can we all agree that airports are pretty peculiar? I mean, what other place forces you to walk barefoot on a dirty floor? (Well... maybe your one friend who makes everyone take their shoes off before entering their apartment does, but that's a different story.)
Aside from the weird things imposed upon you by the airports themselves, there are also interesting people who travel with some very odd items in their luggage.
TSA agents have found things like live animals, venomous snakes, and even skull fragments in travelers' luggage in the past -- but things got even weirder in 2017.
Michael McCarthy is the TSA Spokesman for New England, Michigan, and Illinois, and he recently took to Twitter to share an odd creature one of his agents encountered.
That's right folks, what you see in the previous tweet is a photo of a 20-pound lobster which was found in a travelers' checked cooler.
Luckily, lobsters are allowed to travel, as long as they're in a safe cooler. McCarthy told AP that this lobster is the biggest he's ever seen and that it was surprisingly "cooperative."
Well, it's great that the lobster was cooperative and all, but I share Twitter user Holid Love's sentiment: Why would someone travel with a 20-pound lobster, anyway? Was it for dinner? A feast? A carnival? Who knows.
There's no word on why this massive crustacean was flying, but some wondered about its seating arrangement.
"Did they have to pay for its own seat?"
Is this some sort of alternate universe?
Another user wants to get her butter and bib ready.
If you're curious, this story's ending is a happy one. Once the lobster was inspected by the TSA officer, it was put back into it's cooler and sent on its merry way.
Unfortunately, we can't say the same about this rabbit.