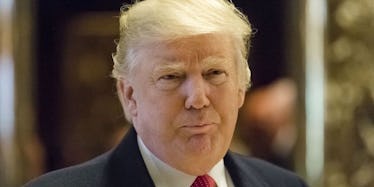 Photo Of Trump Kissing His Grandson Actually Makes Him Look Like A Cute Grandpa
REX/Shutterstock
Yes, behind those awesome caterpillar eyebrows of power and that straw lid lies a human being with thoughts and feelings.
His name is Donald Trump, and he is a grandfather.
Go on, admit it: This photo's adorable. You don't have to like him to agree (although it helps a great deal).
The president-elect was snapped by his son Donald Trump Junior while he was flying back on their private jet from a Christmas break in Florida... because the new president holidays in style.
It shows the big man taking a break from reading the newspaper to cuddle up to his grandson, Tristan. It looks like the 6-year-old has inherited his grandfather's pout.
Come on, guys. Let's forget about this whole election nonsense for one second, and collectively say "Aaaawwww."
Or just move on to the next article. Don't look at me: You're the one who clicked in.
Trump Jr tweeted,
Grandpa Donald Trump and Tristan aka T-man on the ride back from Florida this past Sunday #Christmas #vacation.
The family was in Mar-a-Lago, Palm Beach, where they threw one kick-ass New Year's Eve party.
It looked pretty swag. There were even ill-fitting plastic top hats because money doesn't buy you style.
Rocky was there for some reason.
Before that, the family celebrated Christmas in a church, and were cheered upon arrival.
But unfortunately for Donald Trump, it's time to leave vacations behind. He won't be taking a proper one for some time after he's sworn in on January 20 as America's 45th president.
Now that's something I never thought I'd be writing in 2017.
After that bizarre meeting with Kanye West, many people thought the rapper would be performing at the ceremony. However, this doesn't appear to be the case.
We can expect to hear from the Mormon Tabernacle Choir, the Rockettes and Jackie Evancho.
This is fine, but they're no Kanye.