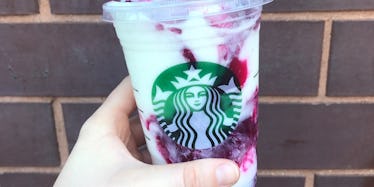 I Tried Starbucks' Berry Prickly Pear Frappuccino & It Tastes Like Berry Sherbet
Amanda Fama
In the midst of New York City chaos, train delays, missed emails, and summer heat, I was able to try Starbucks' new Berry Prickly Pear Frappuccino Crème -- and it made my stressful morning a whole lot sweeter.
The creamy, berry-licious frapp was launched by Starbucks on Tuesday morning -- along with the Mango Pineapple Frappuccino -- and I knew almost instantly that I needed to give it a taste.
Before running (no, literally -- running) to the Starbucks at Union Square in New York on my way to work, I took a look at the ingredients that I was about to indulge in. Needless to say, everything involved in the making of this drink is summery AF.
According to Starbucks' website, the Berry Prickly Pear Frappuccino is made by pouring a mango Frappuccino blended Crème atop strawberry and prickly pear fruit puree, which is then dispersed throughout the cup.
The hot pink puree includes subtle notes of hibiscus, passionfruit and lime.
To top it off, baristas use even more of the fruit puree instead of whipped cream.
After learning the basics about the drink, I was ready to dive in.
While I was ordering, I pointed to a new sign on the wall behind the register that showed a beautiful picture of the two new drinks, and the barista started making it.
Once it was finished, I dipped my straw into the white frapp, stirred the pink puree and took a sip.
To be completely honest, it was super sweet and delicious. If you're a fan of tropical flavors, you'll love the combined tastes of berries, mangos, and limes.
In my opinion, the drink tasted like berry sherbet in frappuccino form (I love berry sherbet).
TBH, I finished the drink a little while ago and I'm still in a summery mindset.
The fusion of the sweet, yet smooth mango frappuccino with a fruity puree was a perfect start to my morning, and it definitely cooled me down in the summer heat.
If your sweet tooth is craving a new Starbucks drink and you're in the mood for a quick tropical vacation, give this one a try.