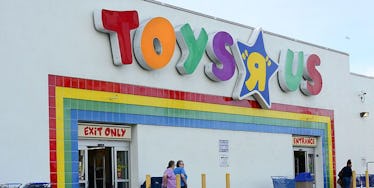 Toys "R" Us Officially Filed For Bankruptcy And Everyone Is Truly Heartbroken
Bauer-Griffin / Contributor / Getty Images
Hearts everywhere broke when news surfaced that Toys "R" Us filed for bankruptcy protection on Sept. 18. Late in the evening, the fan favorite made the Chapter 11 bankruptcy filing inside a federal court in Richmond, Virginia, leaving people nostalgic for those childhood outings in search of a new doll, action figure, or stuffed animal.
Not even the world's largest toy store chain could rival online retailers. Toys "R" Us, which also owns Babies "R" Us, struggled to compete with Amazon and Walmart, according to The New York Times. But competition was just one factor of this decision. The store also suffered from debt that added up to more than $5 billion and had been piling up for years. As 2018 quickly approaches, the store was supposed to face $400 million in debt payment.
Though undoubtedly a difficult decision, the toy company believes this move would be able to ""fuel its aspirations to bring play to kids everywhere and be a best friend to parents" while figuring out ways to grow and stay afloat. Though such a catastrophic move, Toys "R" Us plans to carry on "as usual" throughout its locations worldwide, The Times further reported. Lenders, including JPMorgan Chase, will help with $3 billion in financing.
These actions hit people hard.
Some says it's the "end of an era."
Emotions are running high.
Once the dust settles and new strategies are brought to the table, perhaps there is a chance for the company to remain a viable option in the midst of discount stores and online shopping — fans can only hope.
"Today marks the dawn of a new era at Toys "R" Us, where we expect that the financial constraints that have held us back will be addressed in a lasting and effective way," Dave Brandon, the company's chairman and chief executive, said in a statement, according to The Times. 
It's no surprise that this move brought shoppers back to the good ol' days and made them reminisce about Pokemon cards and tamagotchis. Nostalgia is a powerful experience, and there's a science behind it. According to Alan R. Hirsch in his report, "Nostalgia: A Neuropsychiatric Understanding," it's a "sanitized" impression of the past that oftentimes filters out any negativity. It's not a particular memory of years past; rather, it's an emotional state reflecting on a specific time. Naturally, a trip to the seemingly the greatest toy store in existence fits quite comfortably into this definition. This is perhaps why crying emojis have begun surfacing on social media in reference to the filing.
Who can blame these unhappy souls? Toys "R" Us was all that in its hay day: the '90s. You know, the time when iPhones and their expensive prices weren't on the horizon and you can get together with friends without posting your every move on social media for your followers to see/envy. Girl Talk, Skip It, Polly Pockets, Legos — these were the goods before Instagram and Facebook showed up on the scene. These were the reasons that Toys "R" Us runs were so highly anticipated.
Kohlberg Kravis Roberts, Bain Capital, and Vornado Realty Trust have owned the firm since a 2005 buyout that cost $6 billion. With any hope to hang onto our nostalgia, these three companies will address the issues and see what's in store. I'm not sure my Barbie-loving inner 7-year-old could take losing a store where she spent so much time. I'd want future generations to have the same experiences — picking out something special on their birthday, getting rewarded for a good report card at the end of the year. Now it seems that tech has replaced the toys Gen Y grew up with and learned to love.
Here's to hoping for the best.
Check out the entire Gen Why series and other videos on Facebook and the Bustle app across Apple TV, Roku, and Amazon Fire TV.