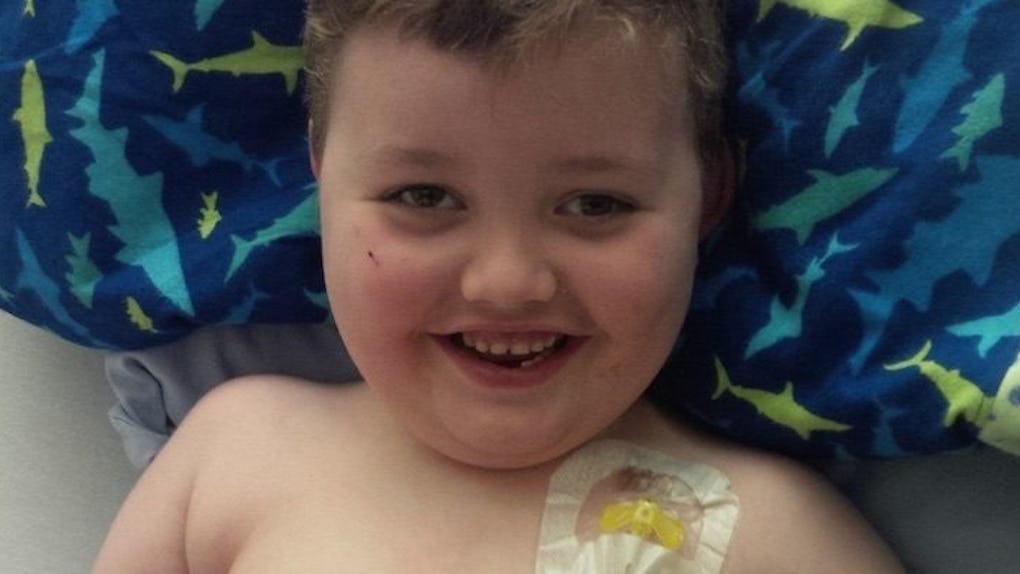 Facebook
Town Hosts Christmas In October For 7-Year-Old Boy With Terminal Cancer
When doctors informed Nicole Wellwood her son Evan Leversage's tumor was not responding to radiation treatment, they advised she celebrate Christmas with her 7-year-old early.
The mother of three reached out to family members, asking them to hold Christmas in October to provide her child one last holiday season.
Wishing that I could go back to this moment! Evan and I had no clue what laid ahead hours later. The last picture before... Posted by Nicole Wellwood on Wednesday, May 27, 2015
To make the occasion even more exceptional, Wellwood's cousin made Facebook and GoFundMe pages to share little Evan's story and raise money for a dazzling celebration.
Fellow relatives dispersed flyers throughout the community and told neighbors their plans until, eventually, thousands of people were in on Evan's "One Last Christmas."
Residents of Wellwood's town, St. George, Ontario, Canada, hauled out lights and yard decorations ahead of schedule, and the community planned a Christmas parade to march past Evan's house on October 24 at 7 pm.
According to CBC News, Wellwood gushed,
You look out our front window, the entire street is lit up. Everywhere you look it's Christmas. It's more than I could have imagined.
Living in a veritable Christmas wonderland will be a treat for Evan, who was diagnosed with a brain tumor just before his second birthday.
Posted by Nicole Wellwood on Wednesday, April 8, 2015
With nearly $19,000 raised through his GoFundMe page and 3,700 guests who RSVP'd on Facebook to attend the parade, Evan's last Christmas is sure to be the best of his life.
Citations: Town holds Christmas early for seven-year-old boy dying of brain cancer after doctors warn his family he doesn't have long left (Daily Mail), Christmas in October for terminally ill boy celebrated by Ontario town (CBC News)