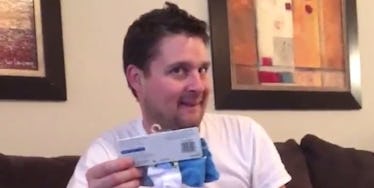 Teen Pulls Horrible Pregnancy Prank On Her Dad And Ruins Christmas (Video)
Fathers can be hard to buy for, so one high school senior decided to get her dad the one gift that never gets old: paralyzing fear.
Princeton, Texas resident Brooke wrapped up a few pairs of baby socks and handed them to her dad on Christmas morning, hoping to convince him she was pregnant.
In a video of the exchange, Brooke's dad opens the gift, and his reaction immediately shifts from "Oooh, presents!" to "This is my personal hell. I am being punished for the sins of my forefathers. May death take me swiftly in my sleep."
Brooke tweeted two segments of her father's emotional torment for followers to enjoy.
part 2 I guess. he was so scared pic.twitter.com/2caFjg8cOE — brookeッ (@x_broooke_x) December 26, 2015
Sometimes, the best gift is simply not being a grandfather.
Citations: High schooler cruelly pranks dad into thinking she's pregnant on Christmas (Mashable)