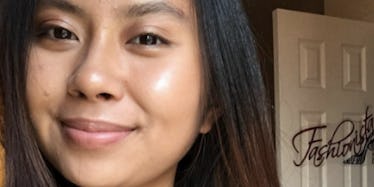 Teen Finds Childhood Crush After Her Tweet Goes Viral, So True Love Does Exist
Twitter
I bet you never thought finding love on Twitter was possible, did you?
Well, 17-year-old Hanna De Castro might be the exception to the romantic rules of social media, because her childhood crush recently found her through one of her tweets that went viral.
Her hilarious tweet -- which had nothing to do with romance -- was about her mom giving her a "half up, half down" hairstyle when she was younger.
Naturally, Twitter found it hilarious.
Amongst the many comments about De Castro's childhood hairdo, her childhood crush chimed in.
In a Twitter mention, David Gonzales excitedly said, "OMG I THINK I WENT TO PRESCHOOL WITH YOU."
Yup. I can definitely sense some sort of fling coming.
De Castro then responded and asked if he was "David from CKP," and the rest is history.
One Twitter user picked up on the ever-so-romantic encounter and jokingly asked if they were going to get married now that they had reconnected.
At that moment, De Castro basically tied the knot and admitted Gonzales was her childhood crush.
I know. We're swooning, too.
In fact, we were swooning so much that we reached out to De Castro to find out more about her young love firsthand.
Elite Daily asked De Castro if she was surprised to hear from Gonzales, and she says, "Yes! I was very surprised since I wasn't expecting that to happen. We sadly lost touch when we moved to different kindergartens."
After Gonzales and De Castro reconnected, he posted a photo of the two of them on her viral tweet's strand, and it'll make your heart so, so warm.
All thanks to De Castro's viral tweet, the young lovebirds are trying to connect in person again to catch up... and who knows what'll happen from there. Dating? Marriage? Kids?
Sorry, I'm getting ahead of myself.
Anyway, De Castro tells us, "Once we identified each other we started messaging to catch up on life. We're actually planning a real life preschool reunion soon."
I guess we'll have to wait and see what happens with their rekindled relationship next.