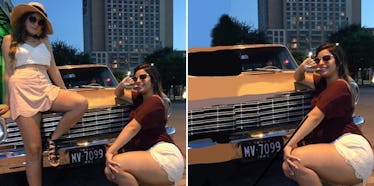 Teen Savagely Edits Ex-Friend Out Of Photo, Sparks Petty Social Media Trend
Twitter
Doesn't it suck when one of your favorite photos includes someone you'd rather not associate yourself with anymore?
Yeah, it sucks. It sucks a lot. I mean, why should you not post a picture of yourself on social media because one of your ex-friends is posing alongside you?
Just edit them out and keep it moving like Beyoncé would!
That's exactly what one 18-year-old girl did on Twitter after she shared a photo of herself and captioned it,
Y'all ever stop fucking with someone but liked the way YOU looked in the pic... ? So you gotta...
The first photo attached to the tweet was the original photo of Serena Caballero and her friend.
Here's the original pic.
The second photo attached was the same exact pic except Caballero's ex-friend was hilariously edited out.
Serena's tweet quickly pulled in over 16,000 retweets and 47,000 likes. It's safe to say plenty of us can relate!
Pettiness level: over 9,000!
Other users shared their own edited photos proving Serena isn't the only one who won't let a good pic go to waste.
This girl can definitely relate.
If you're not a Photoshop wiz, just slap an emoji on their head.
Serena says she used the Picsart app. It didn't take long before other people tried their editing skills out using the app.
If you're just not good at neatly editing your ex-BFFs out of your precious photos, SCRIBBLE!
Honestly, I'd be pretty pissed of someone edited my face out of their photo.
At the same time, I can totally think of a few photos I've wanted to post on social media, but just won't because they feature LOSERS.
Kudos to Serena Caballero from Texas for being crafty and not allowing that camera roll gold to go to waste...
Some call it petty, others call it being solution-driven!
Citations: People Are Sharing Hilariously Altered Pics After This Teen Removed Someone From A Photo (BuzzFeed)