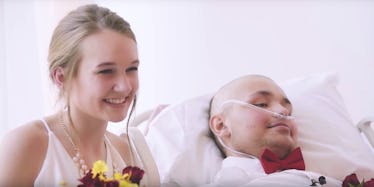 Teen Battling Cancer Marries His True Love In Emotional Hospital Wedding
YouTube
An 18-year-old newlywed couple's story is making tear ducts across the nation work overtime.
High school sweethearts Abbi Ruicker and Swift Myers tied the knot at the Children's Hospital at Saint Francis in Tulsa, Oklahoma.
Swift, who has been battling a rare cancerous tumor called Ewing's sarcoma for seven years, proposed to Ruicker after two years of dating.
In a recent interview with People, Abbi revealed,
His entire family was in the hospital room and he said, 'Will you marry me? Will you be my wife?' At first I laughed because he's always playing around, saying he wants to marry me.
Swift was NOT playing around.
As a matter of fact, just before popping the question, Swift asked Abbi if he could call her dad and ask for permission to marry her.
It was at that point she knew he was serious about taking the next big step with her.
My dad said that it would be an honor to have him as a son-in-law.
Swift had proposed just two days prior to getting married -- but there was no need to wait any longer. Swift and Abbi knew what they wanted. Truly heartwarming.
Abbi told People,
He's the love of my life.
Nearly 100 people showed up to the marriage ceremony, which took place in the intensive care unit.
Swift's ICU nurse, Mandy Beam, even live-streamed the special event on Facebook. She told People,
Swift and Abbi have taken a long journey together and they act like a couple that has been together for many years. They share a love that comes with challenges, but this was their fairy tale. The wedding was intimate but simple and representative of who they are as a couple – kind and beautiful. I hope they treasure the wedding forever.
Check out the beautiful, emotional wedding video of the ceremony above!
And remember, it's OK to cry.
Citations: Teen with Cancer Marries High School Sweetheart from Hospital Bed: 'Love Is Still Possible' (People)