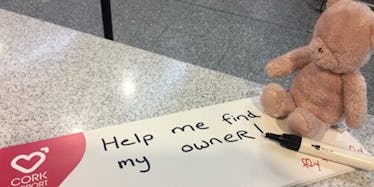 An Airport Is Desperately Trying To Get This Lost Teddy Bear Back To Its Owner
Facebook
There's nothing worse than suddenly realizing you've lost your precious, childhood teddy bear.
I personally remember dropping my stuffed lamb on the sidewalk during a rainy night in New York City when I was younger.
Luckily, some guy happened to see me drop it and alerted my parents. Crisis averted.
Unfortunately, that wasn't the case when some poor kid left his or her pink teddy bear at Cork Airport in Ireland.
It seems the owner of the teddy bear is long gone on their journey to wherever they were going.
The good news is the kind folks over at Cork Airport aren't at all heartless.
They've set out on a mission to reunite the owner of the teddy bear with their stuffed BFF, according to Mashable.
Cork Airport recently shared a post on Facebook regarding their mission to return the pink teddy to its rightful owner, saying,
This pink Teddy should have been heading off on a flight earlier today but got separated from his traveling companions. If you are missing Teddy please contact us. Teddy has had his dinner and tea and is relaxing in our lounge at present.
This is just proof there are still good people out there. *Breathes a sigh of relief*
Here's the Facebook post Cork Airport shared in hopes of locating the owner of a pink teddy bear that was left behind in Ireland.
Despite garnering nearly 900 shares on Facebook, the owner of the bear has yet to come forward. That won't stop Cork Airport, though.
Day three rolled around, and the owner still had not come forward. Fortunately, teddy's been keeping pretty busy!
So, the bad news is the owner of this teddy bear obviously hasn't been located yet. The good news, however, is the bear is surprisingly coping well during this tough time.
That's not to mention he's now been crowned a viral sensation thanks to Cork Airport's Facebook-savvy ways. I don't know about you, but I have a feeling all of this newfound fame could lead to him reuniting with his family in the end.
Hey, owner of this stuffed animal, where ever you are, CHECK FACEBOOK MORE OFTEN! Oh, wait, you're probably just a toddler...
Citations: The internet is desperately trying to reunite this lost teddy bear with its owner (Mashable)