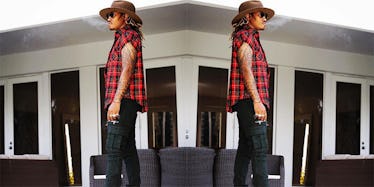 This Target Employee Is Becoming Famous Because He Looks Like Future (Photo)
There are few rappers on Future's level this year.
His songs about putting thumbs in the booty reached commercial success in ways nobody could've predicted. His trendsetting moves are reflected all throughout today's youth.
One Target employee is clearly a Future Hendrix fanatic, as he was snapped on the job looking exactly like his idol.
Some people are convinced the rapper actually got a part-time job and it's him, but they're buggin'. Either way, everyone should make like Future and put the "dirty soda in a styrofoam."
The comparisons between the rapper and employee are hilarious and endless.
But really, this Future persona is helping the young man with his job.
Responding with Future lyrics is actually the best customer service I've ever heard of.
"Check the price & make a deal for me" RT @LordWink: Target Hendrix pic.twitter.com/civwgnW34R — Kanga (@K_Messias_) November 27, 2015
Because as the customer, I'd be buying all this sh*t.
"Chicken wings and fries they in aisle 8" #targethendrix pic.twitter.com/LfRdtw4zdW — Introverted (@ya_boi_benny_15) November 27, 2015
You already know Future would be dishing out all of the craziest deals.
Future over here changing bath towel prices at Target. pic.twitter.com/ie6k494U5g — MJ (@creepgoddess) November 28, 2015
It's a wrap for Alex from Target now.
#BlackFriday deals from the Future at @Targetpic.twitter.com/kWXgsCCdIy — * (@ItsPaoloni) November 28, 2015
Citations: Alert: There's a New Alex From Target and He's Super Hot (Cosmopolitan)