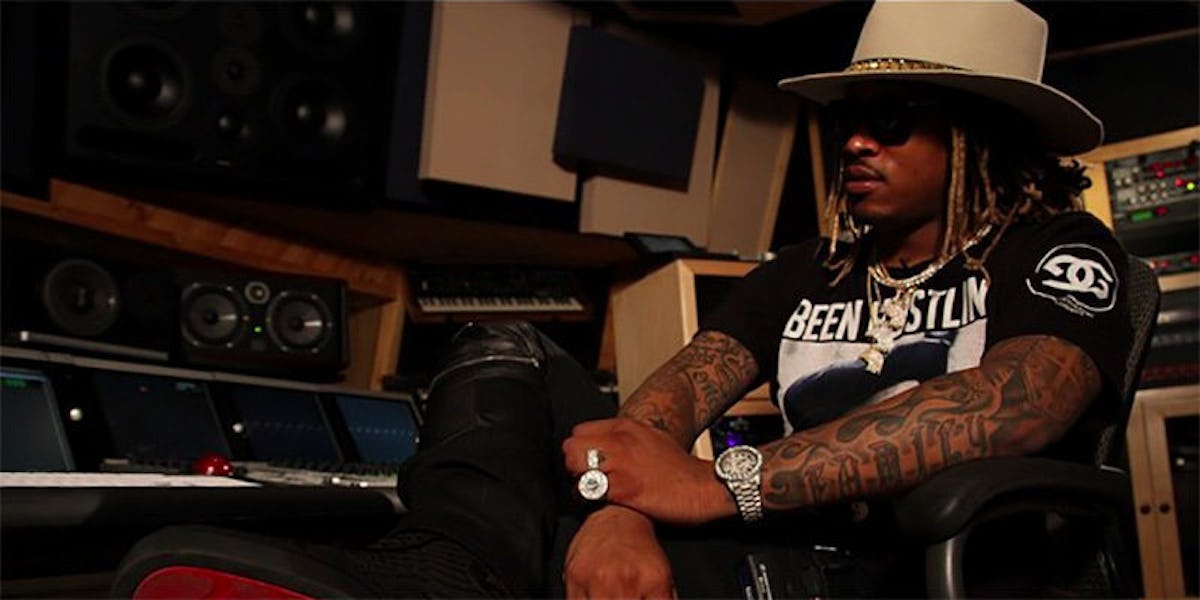 The Hive Is Real: 5 Reasons Future May Just Be The Future Of Hip-Hop
Instagram
Shout out to all my hip-hop purists who are going to roast me in the comments section for this one. Just hear me out.
Future came in the game blazing, with most of his current fans getting to know the Dungeon Family offspring through his hook work on YC's "Racks."
While YC fell off with the quickness, Young Hendrix parlayed that gig into a full-fledged career and never turned back, dropping Astronaut Status the following year.
Still, he truly didn't blow until Pluto hit the streets, and the world was able to dissect his true style.
For me, "Tony Montana" was the track that officially made me a believer, but it very well could have been "Magic," or "Same Damn Time." His consistency at this point was undeniable.
Co-signs from the likes of TI and Drake also brought him some light, but he was always able to maintain without relying on features, even while those features were some of the hottest that year.
Many believe he owes a bit of credit to T-Pain and the aforementioned Toronto kid stylistically, which any hip-hop fan of the last decade could certainly argue.
He definitely found his voice as being just a little bit more dangerous, however, a little bit more raw and a little bit more real in his approach.
A trap star who could chop bricks with Jeezy and woo Kelly Rowland at the same damn time, he seemed to have finally figured out the cheat code.
Then ya boy went and fell in love, SMH. Nothing wrong with that on a personal level, but there does seem to be a pattern of artists finding love and their music beginning to suffer (*cough* Alicia Keys *cough* Nas *cough*).
Future soon found himself in Hollywood crafting Honest, and while it wasn't a fail by any means, producing the infectious, "Move That Dope," and popular Kanye collab, "I Won," it didn't compare to his previous material.
What did compare were the artists who came out of the woodwork trying to ride his wave.
His high-profile relationship with Ciara also began to crumble, and the ATL spitter decided he needed to get back to his Atlanta roots to give the fans what they wanted and needed, starting with three stellar tapes.
With the release of DS2, Hendrix has dropped four high-quality bodies of work in less than a year, and the fans are calling him the man of the summer for it.
DS2 dropped less than a week ago and has caused a damn cyber-riot. Carefully-crafted promo is largely to thank for it, but the music itself stands alone as some of his best stuff.
It's brilliant ignorance at its finest and so damn raw you may wince once or twice at the honesty, but as always, that's exactly what Future is going for.
Not to mention, the bass on this thing could blow the back out of an elephant. Could the kid from Kirkwood really be the real deal?
Here are a few reasons why he may just be running this rap sh*t:
Future's influence is undeniable.
Future's combination of Atlanta trap music and his unusual, yet melodic flow has been bitten by a countless number of artists, many of whom went on to great success, thanks to this formula.
The biggest song of the summer, "Trap Queen," and Fetty's followup, "My Way," both sound like something Future could have cooked up and decided to pass down to the lil' homie.
Same with ratchet anthem "Flicka Da Wrist" and any number of Young Thug or Rich Homie Quan tracks.
Future is Beyoncé for men.
Admittedly, this may seem like a reach. After all, Beyoncé is a global phenom, who has dominated the industry for over 10 years as a solo artist, and even longer as the HBIC of Destiny's Child.
I'm certainly not saying the ATL spitter has reached her caliber of success, but when it comes to Future's fans, they can be as rabid as the BeyHive (and it's likely no coincidence his fans are collectively known as FutureHive).
Several of my peer hip-hop journos and Average Joe friends alike have confessed to an almost-obsessive support and love for his music, one even admitting if a girl doesn't listen to Future, "we don't have one. "
Yeah, it's like that.
Philly rhymer and Future's "Jump Out The Face" collaborator, Meek Mill, has admitted in multiple interviews that Hendrix is the only rapper he can stomach on a regular basis because it feels like he's "speaking directly to me," where other artists simply don't evoke that familiar spirit of the streets.
Also, witnessing grown-ass men lose their sh*t to "F*ck Up Some Commas" is comparable to a stadium of Bey fans doing entire dance routines in the crowd of one of her spectacular shows.
There's no shame in it whatsoever, as where going HAM to, oh, I don't know, a Drake record for example, may make some guys a little uncomfortable.
That doesn't mean Drizzy isn't turning clubs upside down; "Energy" and "Know Yourself" are still having incredible runs, months after their release.
His very persona, however, can be off-putting to a certain alpha-male type who can't help but laugh at the thought of a child TV star "starting at the bottom," or of wheelchair Jimmy paying shooters to off someone.
Future isn't subject to that same authenticity debate. His realness is never being called into question, which is something hip-hop as a whole holds in high regard.
If there's any further doubt, just search #DS2 on Twitter and see the fandom some of these adult men have for the codeine connoisseur.
It's nothing short of Bey status right now.
Women flock to Future more than most rappers.
Most women over 25 can admit to going through a "bad boy" phase, and for the ladies who love hip-hop, Future has become the personification of all the things they love about the boys outside who "move that dope."
His music provides them with a sense of danger and escape, while being melodic enough for them to fall in love with his softer side, as exhibited on songs like "Neva End" featuring Kelly Rowland, Rihanna's "Love Song" and even "Rich Sex" off DS2.
His dope boy persona is ultimately what makes him magnetic, and he's perfected balancing that fine line between street and sweet within his music.
From Big Daddy Kane to LL Cool J to (of course) Drizzy himself, being able to consistently reach women with your music will always set you apart from the rest in the rap game.
Future is currently dominating that spot for the ladies looking for someone who's still a bit rough around the edges.
This is in complete contrast to ladies man Drake, whose universal appeal is largely based on him being the sensitive dreamboat who will save you from an unappreciative bae or the strip club.
Future ain't saving nobody, and some women prefer it that way.
Future's mixtapes are better than many rappers' albums.
Future isn't alone here.
Rappers like J Cole, Meek Mill and Fabolous have all dropped mixtapes better than several rappers' actual albums, most fans admitting that these tapes are certified classics on par with studio releases that required more money and time to produce.
The same can be said of Future's trio of game-changing releases: Monster, Beast Mode and 56 Nights. 
While rebounding from his disappointing album, Honest, Hendrix went back to his roots, literally, leaving Hollywood and the voices that steered him in the wrong direction, in favor of his native Atlanta, where he began crafting the monster that became Monster, a complete and cohesive body of work that could easily contend for tape of 2014.
Beast Mode and 56 Nights soon followed, all three becoming so successful that the public essentially chose singles for him.
There was no need for Epic Records to have a round-table discussion about the radio potential of "F*ck Up Some Commas" or "Trap N*ggas." The public recognized these free tracks were better than songs they paid $1.29 for and soon, radio followed, which brings me to my next point.
Future doesn't chase radio.
In the grand tradition of Southern rappers, Future broke his early records in the strip club along with some help from frequent collaborator DJ Esco.
It's a formula that's worked for decades, so why fix what ain't broke? Radio, more or less, came to him, as opposed to him chasing the formulaic playlists we've all become accustomed to.
He even tried to help his former lady, Ciara, by advising her not to chase pop when his sexy creation, "Body Party," was her biggest hit in years.
She ended up doing just that with questionable results. Lesson hopefully learned.
On Future's latest, Dirty Sprite 2, nothing jumps out as a "radio hit" because he's clearly not crafting songs for the airwaves. But his music is so undeniably "possessive" (to quote the man himself), fans and DJs will damn sure have more than a few of these heaters in rotation very soon.
Other rappers, like Kendrick Lamar, for example, have a similar gift, but no one has seen the fruits of labor come back so abundantly while avoiding the industry games people play with the music.
Future ain't playin', yet is still having fun with the whole process, as he should.
At this moment, Hendrix has hip-hop in the palm of his hands, and while only time will tell if he really is the next leader of the culture, I'll put my money on this trap star any day.