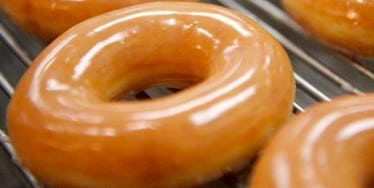 If You Talk Like A Pirate Today, Krispy Kreme Will Give You Free Doughnuts
Twitter
Why does it take pirates so long to learn the alphabet? Because they can spend years at C!
*Slow clap.*
Come on guys, humor me -- it's National Talk Like a Pirate Day. Yeah, that's a thing.
You can get two things out of today: The satisfaction of talking like Jack Sparrow and a free donut from Krispy Kreme, savvy?
Here's the fine print from the KK website:
Any swashbuckling guest who talks like a pirate will receive one free Original Glazed doughnut, while fans who dress like a pirate will receive one dozen Original Glazed doughnuts.
But ye be warned -- pick your store wisely.
Not everyone is having luck with the donut promo. Some people claim they've walked into a Krispy Kreme dressed like a massive tool only to be told some stores aren't participating.
Matt Knapp wrote on the KK Facebook page,
Such a scam!!! Tried to receive my doughnuts but was told that it's at "participating locations" and that "basically no locations are going to participate in Tampa." What a joke! You guys make me drive out of my way for a marketing ploy you are sharing all over the internet only to embarrass me in front of everyone else in line - cool. WILL NOT be coming back.
A life at sea was not for Matt Knapp.