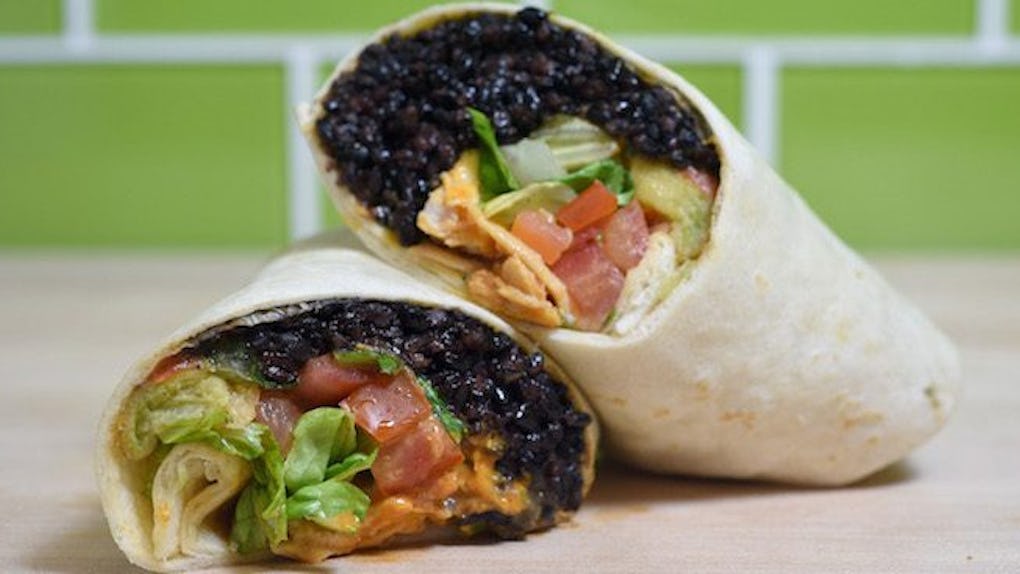 Courtesy of Taco Bell
Taco Bell's Forbidden Bowl & Forbidden Burrito Are Being Tested In This Restaurant
Everyone's favorite Mexican fast-food chain has a few exciting ideas up its sleeve. Hungry customers: It's time to get pumped. For those who are looking for something bold and exciting — perhaps a new take on their usual order — look no further than Taco Bell's "forbidden" menu items. Taco Bell's Forbidden Bowl and Forbidden Burrito will surely pique fans' interest thanks to the delicious ingredients.
The mysterious new menu items come with black rice (which is chock full of antioxidants), sweet avocados, and an exciting new "Forbidden" sauce that customers can mix with their choice of protein and fresh veggies. For either $3.49 (or $3.99, depending on possible protein inclusion) diners have the possibility to enter the forbidden territory. These newbies can also be included in a $5 box with Doritos Locos Taco or a Crunchy Taco. This totally sounds like a win-win situation, huh?
Say no more, Taco Bell. These options sound like a fantastic opportunity to ditch the leftovers and opt for a delectable lunch. But, before heading out in search of these dishes, there are a few things to know. For one, these test items are currently here for a limited time from Sept. 14 to Sept. 21. Secondly, they're only going to be for sale at the Orange County local at 2222 Barranca Parkway.
Yes, it's a bit of a bummer, but there's a method to the madness. According to a press release from Taco Bell, "[The] Food Innovation Team works on imaginative creations reflective of modern food trends and lifestyles. Keep your eyes peeled as we continue to test new seasonal, regional, and lifestyle-specific items that feature elevated ingredients while maintaining the Taco Bell flavors you know and love."
In short, these new treats are a "foray" into new menu items, so there's hope for their return. Anyone up for an impromptu trip to Cali in the meantime?
For those who are feeling a bit defeated by this news: Chin up. Taco Bell is here to make sure customers nationwide are living mas, after all. There are plenty of ways to soothe your Mexican food cravings, though. For one, you have the option to start your day with the Naked Egg Taco, which flips the taco and breakfast concept on its head thanks to a new, out-of-the-ordinary fried egg shell. This hit stores on Aug. 31.
"The Naked Egg Taco strips down the traditional breakfast taco, allowing us to deliver a new flavor experience in every single bite," Liz Matthews, chief food innovation officer at Taco Bell Corp., said in a press release. "Shell innovation is at the core of where we experiment and whether it's crispy chicken, biscuits, or waffles that wrap up menu item classics, we bring our fans craveable and unexpected food experiences that leave them wanting more."
Once your breakfast is finished, head back to Taco Bell around lunchtime for a $5 Steak Quesarito Box, which comes with something super extra. For every Steak Quesarito Box you buy from Aug. 31 to Oct. 4, you'll have a chance to win a brand new Xbox One X. If that's not enough to change your meal plans, I'm not sure what is.
The good news is -- no matter what you're craving -- you have the option to make a pit stop on your way home with Lyft. Head to the drive-thru for a late-night snack thanks to the ride sharing app's Taco Mode feature. What's better than that, right? Hopefully in the near future, you can score a Forbidden Bowl on your way home from a night out with friends.
So while the Forbidden news might be a bit of a bummer, there's a lot to look forward to and enjoy now. Taco Bell, if you need taste testers, you know where to find us.