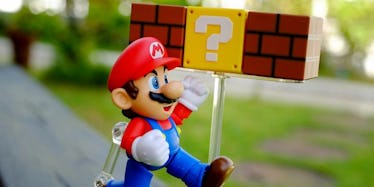 There's A New Super Mario-Themed Bar, So Time To Get Super Smashed, Bro
Shutterstock
"It's a me, a Mario!"
For many people — including myself — that quote is truly emblematic of their childhood.
For a new Super Mario-themed pop-up bar in Washington, DC, The Cherry Blossom Pub, it's the name of one of its cocktails!
The bar, which is located in DC's Shaw neighborhood, has more than just a few nods to the classic video game series.
When walking into the bar, nostalgia practically slaps you in the face.
You'll be greeted by 8-bit Question Blocks...
Piranha Plants coming out of Warp Pipes...
Starmen and 1-Up Mushrooms...
...all while the bartenders run on what can only be Star Power.
And, duh, of course the bartenders are dressed like Mario and Luigi!
Bob-ombs dangle from the ceiling.
Watch out for Bowser!
Don't forget about good ol' Boo.
The menu at the pop-up bar is totally on point with the Mario theme as well, with drinks like "I call Yoshi" and "Princess In Another Castle," and snacks such as "The Marinated Mushrooms.
Interestingly, the Mario-themed bar represents only one part of the overall establishment.
Just one room over, patrons can find Japanese cherry blossoms, paper cranes and maneki neko cat figurines, all in honor of Washington, DC's annual Cherry Blossom Festival.
Derek Brown, who owns the pub, told local radio station WTOP,
We wanted to do something that was an homage to Japan and one of its most famous exports: Mario Brothers. We try to bring out craft spirits, and some of the stuff that people have never seen before, whether it's sake or Japanese whiskies. But in this incarnation, we get to do it in a way that's kind of fun and clever.
In the spirit of the more traditional side of Japanese culture, the bar also offers drinks like "1,000 Paper Cranes" and snacks like "Eat, Drink and Be Cherry."
The pop-up pub is only open until April 15, so don't miss your chance to power-up on Mario-themed drinks!
Citations: Super Mario Bros.-Themed Pop-Up Bar Opens in Washington D.C. (mental_floss), Celebrate the cherry blossoms with cocktails at new pop-up bar (WTOP)