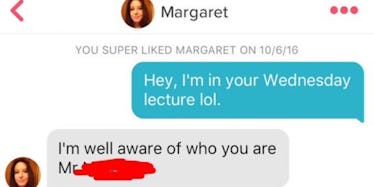 Ballsy Student Hits On Teacher After Matching On Tinder: 'I'll Dick You Down'
Tinder
Welcome to 2016, where nothing says "love" like aggressive pick up lines and excessive use of eggplant emojis.
This college student knows that douchey kind of love like no other.
So when he found his professor on Tinder, he swiped right and prepared to deliver some grade-A bullshit.
It looks like the feeling was mutual, as 36-year-old Margaret did match with him.
But the woman, who describes herself as a teacher and a mother of two with an addiction to Game of Thrones, was having none of it.
He lost immediately by using "lol" in his opening line. He said,
Hey, I'm in your Wednesday lecture lol.
Margaret replies bluntly,
I'm well aware of who you are.
Classic Margs -- she's got no time for flirting.
But read on. The little doucher makes an outrageous comment.
"I'll dick you down for an A?" WHAT IS THAT!?
There's disrespecting your teacher, and then there's THIS. She replied,
Excuse me?
He swiftly changed the subject and asked when his homework was due, as one does on Tinder.
Naturally, there's no reply after that because Margs doesn't deal with tools.
Poor Margaret. We're so sorry you were exposed to this terrible human.
I would put money on this guy being the sort of person who actually bought into Tinder's new feature.
Haven't heard about this?
Basically, you can pay to have your profile stacked at the top end for anyone within your area to see first.
It lasts about 30 minutes and promises to boost your chance of locking down a date.
You can purchase "boosts" at any time, and if you pay for Tinder Plus, you're already getting one free "boost" every week. One boost is $7.99, five boosts are $6.20 each and 10 boosts are $4.70 each.
You just have to make an upfront payment of $46.99 and also feel very desperate to start boosting your profile.