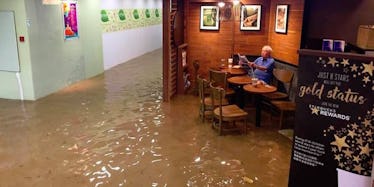 This Chill Man Sat In A Starbucks While It Was Flooding And Literally DGAF
Facebook
Basic bitches aren't the people who would die for Starbucks.
Asia is being battered with typhoons right now. At least seven people died in Philippines in the past 24 hours. It's heartbreaking.
Hong Kong is just one of the places that's being affected by Typhoon Sarika and Super Typhoon Haima right now.
But this badass old man could not care less.
Look at his poise and grace as this Starbucks fills with dirty water.
This Starbucks is in a mall in Hong Kong's Chai Wan district, but apparently he wasn't the only one there. An employee says there were other customers in the coffee shop.
None of them are as iconic as him, obviously.
TV Most, a local television station, shared it on Facebook and it's been blowing up ever since. The caption of the original post reads,
Huh? Hey! Newspaper says it will be raining today! Damn it! I forgot my umbrella.
He has since been dubbed "Starbucks Uncle" by the media and is a certified legend in all of our hearts.
The TV station kept us updated... by posting photoshopped versions of the meme, of course.
People on Facebook responded in the comments of the post with memes of their own as well...
Because who can really resist making memes of such an adorable old man?
And it wouldn't be the Internet if the photo didn't make it onto the first page of Reddit, where we got more ridiculous memes.
Of course, Twitter agrees.
The Internet is a strange place. But I'll happily add Starbucks Uncle to my list of people I want to be when I grow up.
While I'm glad some good came out of the disasters in Asia, I'm really hoping the weather gets better soon.
Both my dad and grandpa are in the Philippines, and I'm hoping the typhoons don't touch the part they're visiting.
#PRAYFORTHEPHILIPPINES
Citations: This Guy Casually Sat In A Starbucks During A Flood And Became A Huge Meme (Buzzfeed)