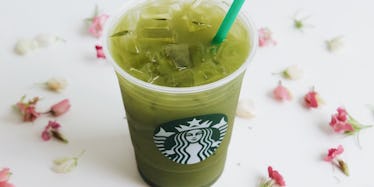 Starbucks' Matcha Lemonade Is Easy To Make, So Serve It At Your Summer Parties
Starbucks
It's slowly getting hotter outside and the sun is shining brighter, which means it's finally time for summertime parties.
Do you know what would be the perfect drink to serve at your summery bash? Matcha Lemonade.
In fact, ever since Starbucks released its new Matcha Lemonade as part of the Cups of Kindness collection, the refreshing beverage has become pretty damn popular -- so I'm sure your guests would love the refreshing surprise.
So far, we've given Matcha Lemonade a try and made the conclusion that it tastes like lemonade, but it isn't overly sweet.
But what is it exactly that gives Matcha Lemonade it's semi-sweet flavor?
Well, the answer is simple: matcha tea and lemonade.
Seriously... that's it.
Based off the simple ingredient list used to make this drink, it'll be super easy to concoct for your guests at your next summer bash.
Starbucks' website lists the exact ingredients used to create Matcha Lemonade in stores. Based off the drink's description, baristas use a combination of Teavana matcha green tea and "crisp" lemonade. Then, they shake it all up and serve it.
It's a pretty one, isn't it?
In order to make this gorgeous drink at home, all you'll need is matcha powder, lemonade, and ice.
First, you'll need to make your matcha tea and let it cool down. If you've never made matcha tea before, don't fret -- it's super simple.
All you need to do is mix the matcha powder into hot water until your tea is frothy and all the powder has dissolved. Then, just set it your fridge to let it chill.
I know matcha powder isn't exactly an everyday grocery, so you might not have it yet.
You can usually buy matcha green tea powder at your nearest health food store, or you can buy a hefty bag of it here on Amazon.
(I can assure you that you'll be hooked once you start drinking it.)
Once you have your cold matcha tea, add a lemonade of your choice (you can make your own lemonade, too, but that sounds like a process you might not want to deal with for a quick pick-me-up).
If you're feeling adventurous, you can totally add a flavored lemonade to the mix, too. Strawberry Matcha Lemonade sounds delicious, if you ask me.
Then, mix it all up and add some ice! You'll have your own Matcha Lemonade in no time.
If I went to an outdoor party and the host was serving homemade Matcha Lemonade, I'd be the happiest partygoer in the world.
But, you'll have to make sure the DJ is playing Lady Gaga while you're sipping on it, because she loves this drink.