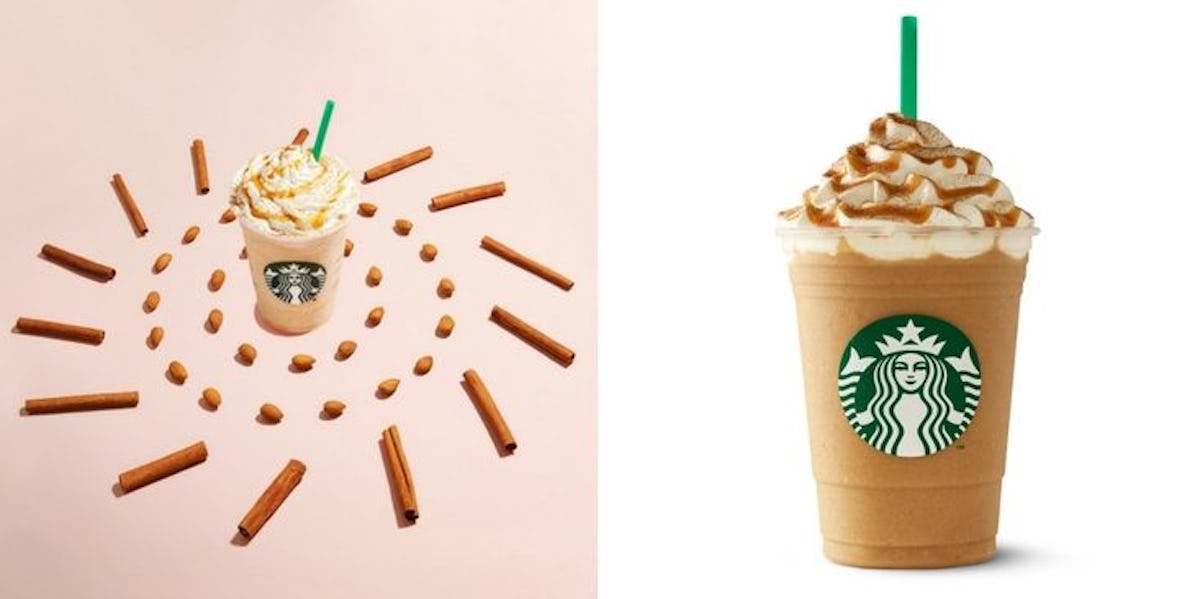 Starbucks' Horchata Almond Milk Frappuccino Tastes Like Fall And Is Easy To DIY
Starbucks
Ready or not, Starbucks released a frappuccino filled with fall flavors on Tuesday, Aug. 8. Starbucks' Horchata Almond Milk Frappuccino is, as the name gives away, made with almond milk. And just like classic horchata — a popular chilled rice beverage in Latin America and Spain — it's loaded with cinnamon flavor, courtesy of the coffee chain's cult favorite cinnamon dolce syrup. This frappuccino is practically calling my name, even if I'm not quite ready to bid fruity summer flavors completely adieu. Thankfully, it's blended with ice and topped with whipped cream, so it still feels like a bev I'd order on a hot summer day.
Even better, the Horchata Almond Milk Frappuccino is super easy to make at home — especially if you've already got an horchata agua fresca recipe on hand.
If you have said recipe at the ready, prepare that first.
Add in coffee, and blend everything together with ice. It's literally that easy.
If you don't have an horchata recipe, grab your go-to almond milk.
In a blender, combine however much milk you prefer with a cup of strong coffee, a generous amount of ground cinnamon, sugar, and lots of ice. Blend until smooth and creamy, and serve it right away.
No matter which DIY route you choose, you can channel your inner Starbucks barista at the end and play up the toppings. Swirl on that whipped cream as if you've got a dome-shaped lid atop your favorite glass. Drizzle on all the caramel sauce your heart desires, and garnish your beautiful (and definitely tasty) creation with more ground cinnamon.
Side note for sweet drink haters: Because you're making this coffee drink at home, you can adjust how sweet or unsweet you want it to taste. In fact, you can completely skip the sugar or add an alternative if you want.
Either way, you're saving money, honey.