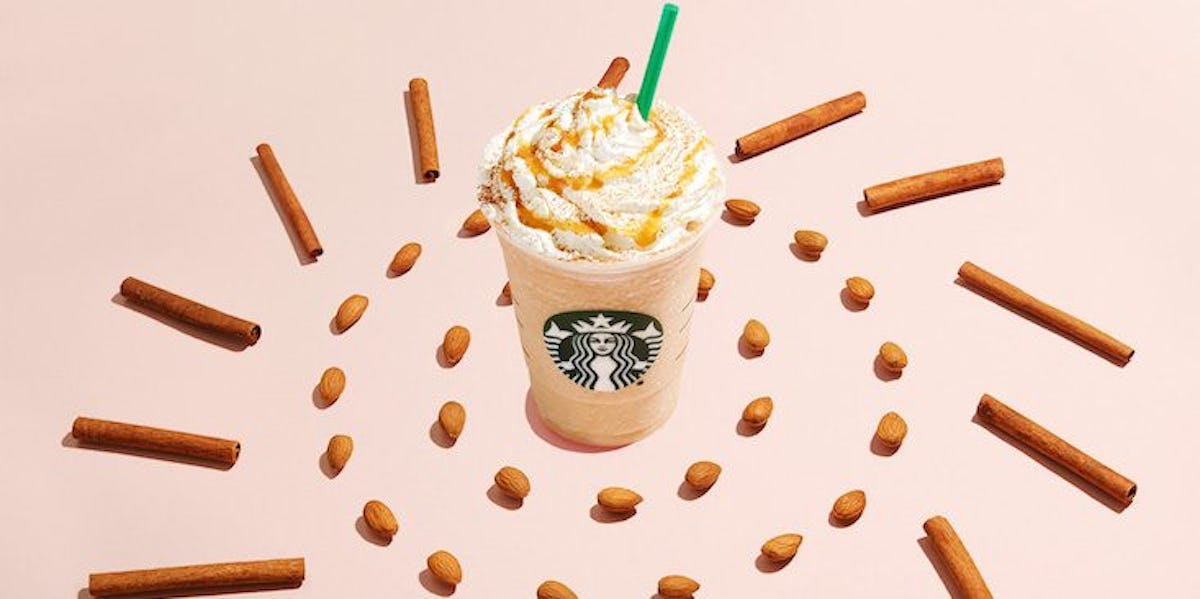 Starbucks' New Horchata Almond Milk Frappuccino Will Spice Up The End Of Summer
Starbucks
Since it's August, it's officially time for Halloween. In the eyes of retailers, now's the time to advertise spooky decorations, lightweight cardigans, and pumpkin in forms you didn't even realized existed. Subtlety is not in the cards. If you're looking forward to fall but still want to hold onto that last piece of summer, Starbucks' new Horchata Almond Milk Frappuccino blends the best of both worlds, so get ready to take a sip.
Beginning on Aug. 8, the new frapp is ushering in the cooler weather and longer nights with its almond milk, cinnamon dolce syrup, coffee, and ice blend combo. Though cool and sweet for the dog days of summer, customers get a hint of the approaching season, all thanks to the swirl of caramel and cinnamon and sugar sprinkles dusted across the whipped cream.
Ah yes, a delicious blend of both seasons indeed.
This new creation is proof that Starbucks is up to date on the news, as the Weather Channel just released statements claiming that fall 2017 will be hotter than ever. Don't bust out the flannel shirt just yet — it looks like you might still need that dress.
Areas throughout the East Coast, South, and Midwest will experience warmer temperatures, and unusual weather patterns are the reason for the temperature surge. Basically, a glance at the impending temperatures will make you think you're looking at a July forecast, not October.
With these predicted temperatures, it's understandable that customers will want a little something cool but savory. After all, it is fall — the time of year that's synonymous with cinnamon and caramel. People cannot completely forgo those iconic flavors, right?
While the topic of fall has come into play, make sure you welcome autumn with adorable BFF date ideas like a scary movie fest and a day navigating a corn maze. Of course, don't forget to add a Starbucks trip to the list — the Horchata Almond Milk Frappuccino is waiting.