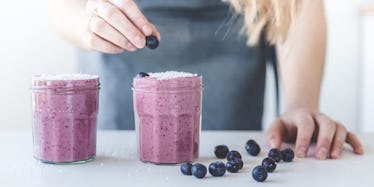 How To Make Sure Your Smoothie Is Actually Healthy And Not Loaded With Sugar
Smoothies are a great option when you're low on time and want to eat something healthy.
You just have to throw your ingredients in a blender before running out the door.
But sometimes, smoothies are just a semi-healthy version of a milkshake.
The other day after a workout at the gym, I was reading the smoothie menu and couldn't believe some of the combinations that were listed.
The one that really stood out to me was the Cookies And Cream Smoothie, which was made with chocolate protein powder, vanilla yogurt and Oreos.
I doubt healthy eaters would choose that one, so there were some healthier options. But, all of them had various combinations of fruit, fruit juice, flavored yogurt and flavored protein powder.
This made me realize there's a lot of confusion about what really makes a smoothie healthy.
If you enjoy sipping a smoothie for breakfast, lunch or after a workout and also love being healthy, the tips below will help you transform your tasty go-to smoothies into nourishing snacks.
Below, I've listed some common smoothie mistakes that people make when trying to eat healthier as well as ways to fix them:
1. Too many sweets
This is a really common mistake. In an effort to make smoothies taste good, you might be adding way too much sugar.
Let's break it down: Like I said before, the components of a typical smoothie are fruit, fruit juice, flavored yogurt and flavored protein powder, which all contain sweeteners.
Each component can be healthy, but together, they make the smoothie too sweet to be considered good for your body.
What can you do instead?
Choose all plain and unflavored ingredients, and use just the fruits for flavor.
I always choose a sweeter fruit to flavor my smoothies like banana, mango or pineapple. Berries can work too, but they tend to be less sweet.
So, I'll either add extra or pair them with a little bit of a sweeter fruit, like half of a banana.
2. Not enough nutrients
Another mistake you might be making with your smoothies is not adding enough nutrients.
You probably add protein, yogurt and fruit, which is a great start. But, your smoothie can be elevated to get even more nutrition.
Smoothies are one of the easiest ways to sneak in multiple servings of fruits and vegetables to your day. And to get the most out of your smoothie, adding veggies is a must!
Choosing a mild-tasting green like spinach or baby kale will mix well with the sweeter fruits you'd add. Besides greens, you can also toss in carrots and beets.
If you're new to adding veggies to your smoothie, it's best to start small by adding just a little at a time. That way, you can find balance between nutrients and flavor.
3. No healthy fats
Fat-free yogurt is a common ingredient for smoothies, but remember, certain fat is good!
Since smoothies digest quickly and can leave you feeling hungry not long after drinking them, adding some fat can help make it more substantial and filling.
Another benefit of healthy fats is the silky smooth, thicker texture you'll get.
Try adding avocado slices, full-fat coconut milk or natural peanut, almond or cashew butter.
4. Using a powdered shake mix
There are many shake mixes on the market, and some healthier than others. Many are marketed as healthy meal replacements and promise an abundance of nutrients and various health claims.
But, you need to beware of popular shake mixes, as they can offer low quality nutrients and proteins. Many of them are also often artificially flavored and sweetened.
Replacing one of your meals with a smoothie is a great idea when done right. So rather than using a powdered mix, use real, whole food ingredients.
That way, you'll get more varied, higher quality nutrients.
There are some great, quick and easy base recipes out there to start. Just do a search on Pinterest, Cooking Light or Google.
One of my favorite go-to combinations is banana, peanut butter, a little raw cacao powder, spinach, high quality (unflavored) protein powder and filtered water.
Smoothies can be one of the healthiest meals or snacks, and they can satisfy many of your nutrition requirements for the day.
In order to get the most out of your smoothie, go for real food ingredients, less sugar and more healthy fats.
If you do, they'll be satisfying, nourishing and delicious!
Check out this free, simple guide "Healthy Smoothie Builder" to help you upgrade your smoothie so it's both healthy and delicious.