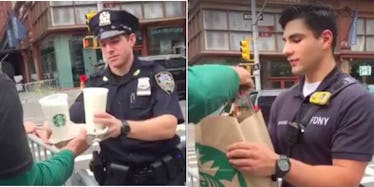 Starbucks Employee Bringing Coffee To Cops At Scene Of Bombing Is Going Viral
Facebook
There's no question New Yorkers have been on edge since Saturday night's bombing in Chelsea, which was declared an act of terrorism on Sunday by Governor Cuomo.
During the uneasy times that follow such a tragic event, it can be hard to recognize the hard work of police officers who are working day and night to protect the city.
The least we can do is buy them a cup of coffee, right?
Well, a Starbucks employee by the name of Jeramaine knew exactly how to give his thanks to the NYPD. He offered officers who were guarding the bomb scene on 23rd Street free coffee and pastries as a token of his appreciation.
Needless to say, people are going wild over the kind-hearted New Yorker -- and over 100,000 Facebook users have already shared the post to spread the love.
In the video that captured the man's selfless offer, he approached the cops with his gifts and said,
I just wanted to bring you guys some coffees and pastries.
After he handed the officers his bags, he added,
I wish I could have brought a little more. But there is cups and sugar in there and some pastries y'all can share.
It's the little things, right? In times like these, the world needs more Jeramaines.
Citations: Daily Mail